HPE BladeSystem c3000 Enclosures

BladeSystem c-Class Enclosures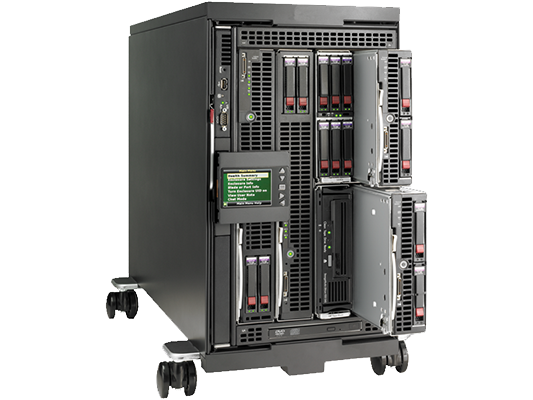 Click here to jump to more pricing!
Overview:
The HPE BladeSystem c3000 Platinum Enclosure brings unique capabilities to HPE BladeSystem.
The c3000 is ideal for:
Small offices or remote sites that have limited to no IT staff.
Applications requiring up to eight servers per enclosure.
Locations that have limited rack power and cooling capacity.
Data centers requiring power connections to an uninterruptible power supply (UPS) or 100-120V AC wall outlets.
Similar to the c7000 enclosure, the Intelligent Management through the Onboard Administrator gives you complete control of your c3000 bladed infrastructure. Each c3000 enclosure repackages the moving parts of your infrastructure cables, power supplies and fans, networking, and redundancy. The economical HPE c3000 solution includes useful features that save you time, hassles, and energy, while making change quick and easy.
The result— greater convenience during setup, maintenance, and daily operations.
Features:
Simple to Manage, Easy to Control
The HPE BladeSystem c3000 Platinum Enclosure goes beyond just servers. It integrates server, storage (NAS or iSCSI), networking, power/cooling, and management into a single solution that can be deployed anywhere.
The intelligent infrastructure support including Power Discovery Services allow the enclosure to communicate information to HPE Intelligent PDUs (iPDU) to automatically track enclosure power connections to the specific iPDU outlet to ensure redundancy and prevent downtime.
With the Onboard Administrator, iLO remote management, and HPE Insight Control you can manage your servers and take complete control regardless of the state of the server operating system.
Easy setup and management using tools you're used to, such as a local DVD drive for SmartStart software deployment, and a local KVM interface for local rack-based KVM integration.
Change Ready IT That Can Grow and Flex with your needs
Pre-wired and pre-configured, the c3000 Platinum Enclosure can easily implement a new server blade, simply as just plugging it in.
Support for G1 to Gen9 server blades provides investment protection throughout the life span of the enclosure.
HPE Insight Control offers essential infrastructure management that unlocks the management capabilities built into HPE ProLiant servers. Insight Control delivers powerful capabilities that enable one to proactively manage ProLiant server health either physical or virtual.
Virtual Connect architecture delivers wire once, and then add, replace, or recover blades on the fly without impacting networks and storage or creating extra steps.
Reduce Up-front Capital and Ongoing Management Costs
Costs less than equivalent rack-mounted servers (at 3 servers or more)
Use up to 94% less cables and 40% less space when compared to equivalent 1U rack mount servers
Deploy anywhere with a choice of UPSs, PDUs and 100-120V AC low-line wall outlet power, as well as a options for 200-240V AC high-line and -48V DC power.
HPE Thermal Logic technologies combine energy-reduction technologies- such as 80 PLUS certified, 94% efficient HPE Platinum Power Supplies- with pinpoint measurement and control through Dynamic Power Capping, to save energy and allocate power and cooling resources more efficiently.
c3000 and c7000 enclosure compatibility with many of the same critical components such as servers, interconnects, mezzanine cards, and storage blades.
Specifications:
HPE BladeSystem c3000 Enclosures Specifications
System fan features
Hot plug redundant standard
Form factor
6U
BladeSystem supported
Yes
Management features
Redundant Onboard Administrator - LAN and serial access optional HPE Insight Control.
Power availability
Hot plug, N+1 and N+N redundancy. Please reference the QuickSpecs for various power options and requirements.
Hardware Specs:
A HPE BladeSystem solutions start with an either a c7000 or c3000 enclosure. For the c3000 enclosure, key enclosure components include hot-plug power supplies, hot-plug HPE Active Cool 100 Fans, and an optional redundant BladeSystem Onboard Administrator module. Once the enclosure and its key components have been selected, the following components can be added: interconnect modules, HPE ProLiant and Integrity server blades, expansion blades, and optional HPE Insight Control for BladeSystem management software.
A BladeSystem c3000 Enclosure holds up to 8 server blades and up to 4 expansion blades (not exceeding 8 total blades) plus redundant network and storage interconnects. It includes a shared, multi-terabit high-speed midplane for wire-once connectivity of server blades to network and shared storage. Power is delivered through a pooled power backplane that ensures the full capacity of the power supplies is available to all blades.
Each c3000 enclosure is built with the following functions:
Up to 8 half-height server blades, 4 full-height server blades, and/or 4 expansion blades per enclosure (not exceeding 8 total blades).
Up to 2 redundant I/O interconnect fabrics (Ethernet, Fibre Channel, iSCSI, SAS, etc.) supported simultaneously within the enclosure.
A single-phase power subsystem for flexibility in connecting to datacenter power, UPSs, or low-line (100VAC to 110VAC) wall outlets.
Choice of AC power supplies.
PARSEC enclosure design - Parallel, redundant and scalable cooling and airflow design.
Up to six (6) hot-plug HPE Active Cool 100 Fans.
Redundant hot-plug cooling, redundant hot-plug power supplies, redundant connections, redundant interconnect modules, and optional redundant BladeSystem Onboard Administrator management module.
An Onboard Administrator management module is built in to the enclosure with the following functions:
Robust, multiple enclosure setup and control.
Reports asset and inventory information for the devices in the enclosure.
Reports thermal and power information, including real-time actual power usage per server and per enclosure.
Front-mounted Insight Display for easy management at the deployment site.
Integrated access to all server blade iLOs from a single cable.
Provides integrated access to interconnect bay device management ports from the single Onboard Administrator cable.
Single sign-on capability for all devices in the enclosure.
Role-based security locally and/or with LDAP directory services.
Provides a wizard-based initial setup process for easy configuration.
An optional DVD drive for local software deployment, and HPE SmartStart deployment
An optional local KVM interface for connection to KVM switches.
A BladeSystem c3000 enclosure provides the following benefits:
With local and remote hardware management integrated across the solution, one full enclosure can be managed as easily as one server.
Management and network interconnects extend scalability beyond a single enclosure, allowing resources to be pooled and shared across multiple enclosures.
Accommodates multiple server and network designs in one enclosure.
Lower costs per server in comparison to rack-mounted servers
Lower power consumption in comparison to rack-mounted servers.
Reduced and simplified cabling in comparison to rack-mounted servers.
Investment protection supporting G1 through Gen10 server blades.
Notes: HPE BladeSystem c3000 and c7000 Enclosures support G1 through Gen10 ProLiant and Integrity server blades, subject to support requirements of the Onboard Administrator. Certain HPE ProLiant server blades and options may require a specific version of the Onboard Administrator firmware. This firmware release may also require other subsystem firmware upgrades. For further information, please see the HPE Service Pack for ProLiant (SPP) website and the HPE Support Center document "HPE ProLiant Server Blades - Compatibility with HPE BladeSystem c7000 and c3000 Enclosures and Firmware".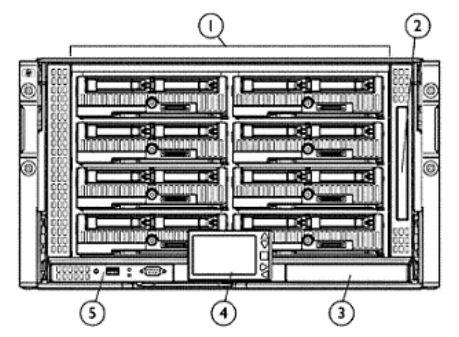 HPE BladeSystem c3000 Enclosure - Front View
Device Bays 1 thru 8
Enclosure DVD Drive
Standby Onboard Administrator
Insight Display
Active Onboard Administrator

HPE BladeSystem c3000 Enclosure - Rear View
Local KVM interface
Interconnect Bay 1
Active Cool 100 Fans and Fan Bays
Interconnect Bay 2
Enclosure Up-link and Service Port
Enclosure Down-link
iLO/Onboard Administrator Port
iLO/Onboard Administrator Port 2
Power Supplies
Interconnect Bay 4
Interconnect Bay 3
Services:
HPE Pointnext
Access expertise at every step of your IT journey with HPE Pointnext Services. Advisory Services focuses on your business outcomes and goals, to design your transformation and build a roadmap tuned to your unique challenges. Our Professional and Operational Services help speed up time-to-production and keep your IT stable and reliable.
Operational Services
HPE Datacenter Care helps modernize and simplify IT operations. Partner with an assigned account team, access technical expertise, an enhanced call experience gives you priority access, choose hardware and software support, implement proactive monitoring to help stay ahead of issues, and access HPE IT best practices and IP.
HPE Flexible Capacity offers an enhanced call experience and helps reduce problems with personalized proactive reports and advice. This also includes collaborative software support for Independent Software Vendors (ISVs), (Red Hat, VMWare, Microsoft, etc.).
HPE Foundation Care helps when there is a problem and has a choice of response levels. Collaborative software support is included and provides troubleshooting help for ISVs running on your server.
Other Related Services
Defective Media Retention
Defective Media Retention is optional and applies only to Disk or eligible SSD/Flash Drives replaced by HPE due to malfunction.
HPE Service Credits
HPE Service Credits offers a menu of technical services, access additional resources, and specialist skills.
HPE Education Services
HPE Education Services delivers a comprehensive range of services to support your people as they expand their skills required for a digital transformation.
Consult your HPE Sales Representative or Authorized Channel Partner of choice for any additional questions and support options.
Pricing Notes:
Pricing and product availability subject to change without notice.
HPE Products
HPE Products
HPE BladeSystem c3000 Enclosures
#bladesystem-c3000
Get a Quote!