HPE ProLiant DL580 Gen10 Server

ProLiant DL Servers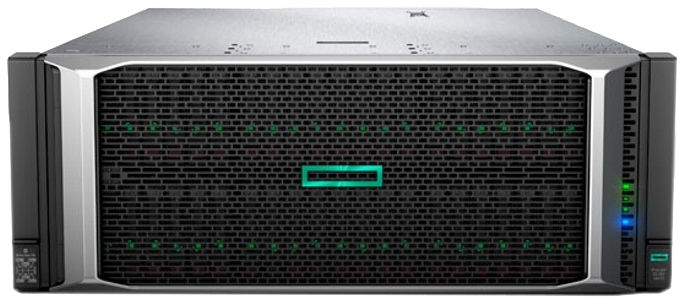 HPE Products
HPE ProLiant DL560 Gen10 Server
HPE ProLiant DL580 Gen10 Server, Intel Xeon 5220 2P, 64GB-R, P408i-a, 8SFF, 4x800W RPS
HPE ProLiant DL580 Gen10 Server, Intel Xeon 6230 4P, 256GB-R, P408i-a, 8SFF, 4x1600W RPS
HPE ProLiant DL580 Gen10 Server, Intel Xeon 8260 4P, 512GB-R, P408i-a, 8SFF, 4x1600W RPS
Click here to jump to more pricing!
Overview:
Looking for a highly scalable, workhorse server to address your database, storage, and graphics intensive applications? The HPE ProLiant DL580 Gen10 Server is a secure, highly expandable, 4P server with high-performance, scalability and availability in a 4U chassis. Supporting the Intel Xeon Scalable processors with up to a 28% performance gain, the HPE ProLiant DL580 Gen10 Server delivers greater processing power than previous generations. This provides up to 6 TB of 2666 MT/s memory with up to 66% greater memory bandwidth, up to 16 PCIe 3.0 slots, plus the simplicity of automated management with HPE OneView and HPE iLO 5. HPE ProLiant DL580 Gen10 Server is the ideal server for business-critical workloads and general 4P data-intensive applications where the right performance is paramount.
Support for the new Intel Xeon Scalable Gold 6143 and Intel Xeon Scalable Platinum 8165 processors which support core boosting
Support for up to 24 HPE 16 GB NVDIMMs
Pricing Notes:
Pricing and product availability subject to change without notice.
HPE Products
HPE ProLiant DL560 Gen10 Server
HPE ProLiant DL580 Gen10 Server, Intel Xeon 5220 2P, 64GB-R, P408i-a, 8SFF, 4x800W RPS
HPE ProLiant DL580 Gen10 Server, Intel Xeon 6230 4P, 256GB-R, P408i-a, 8SFF, 4x1600W RPS
HPE ProLiant DL580 Gen10 Server, Intel Xeon 8260 4P, 512GB-R, P408i-a, 8SFF, 4x1600W RPS