HPE ProLiant MicroServer Gen10 Server

ProLiant MicroServer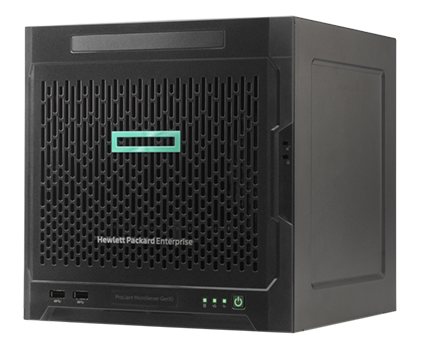 HPE Products
HPE ProLiant MicroServer Gen10 Server, AMD Opteron X3216, 0 HDD (up to 4LFF), 1x8GB DDR4, 1x200W PS
#873830-S01
Our Price: $285.00
Click here to jump to more pricing!
Overview:
Are you a small office, home office, or small business that needs a compact affordable entry level server? The HPE ProLiant MicroServer Gen10 delivers an affordable compact entry level server specifically designed for small offices, home offices, or small business environments. This compact and easy to use server can be placed almost anywhere. Simple access to hard drives, memory and PCIe slots allow easy management, installation and upgrades. HPE ProLiant MicroServer Gen10 is available with ClearOS Software from HPE delivering an intuitive Web based GUI and application marketplace that is pre-loaded on your hard drive, making it ready to use right out of the box. It utilizes the AMD accelerated processing unit (APU) with graphics cores embedded to improve graphic software performance without installing an additional PCIe graphics adapter.
New North America models available.
New SMB model and offer with quad core AMD Opteron X3418 processor.
Supports extra graphics workload and expands your displaying capability up to five 4K resolution displays with the AMD Radeon™ Pro WX 2100 Graphics Card.
Elevate your network speed and work efficiency with the HPE Dual Port 10Gb Network Adapter.
Load your operating system and boot up more quickly with the HPE 240GB SATA Read Intensive Small Form Factor Solid State Drive.
Build your ideal solution for RAID 5 with the HPE Smart Array E208i-p SR Gen10 Controller.
Features:
Be Productive and Customize With ClearOS Software from HPE
The HPE ProLiant MicroServer Gen10 can be configured with ClearOS Software from HPE, an operating system with an intuitive Web based GUI and application marketplace that can be factory pre-loaded for your convenience.
The ClearOS Software from HPE is a no cost operating system and you decide what applications you want to configure while only paying for the applications and support you require.
Unique Server Design with Worry-free Serviceability
The HPE ProLiant MicroServer Gen10 is available with easy access to hard drives, memory, and PCIe slots for simple installation or upgrade.
Compact, easy to use and can be placed in almost any location with its compact design.
Graphic Performance
HPE ProLiant MicroServer Gen10 supports the AMD accelerated processing unit (APU) with the graphics core embedded to aid customers with graphics related workloads without installing an additional graphic card.
Dual display ports capable of 4K resolution video display for increased flexibility.
AMD Radeon Pro WX 2100 boosts up your graphics experience by offering the new generation Graphics Core Next (GCN) GPU architecture, OpenCL 2.0 support, three 4K res. displays at 60 Hz and many more. Find out full features at: https://pro.radeon.com/en-us/product/wx-series/radeon-pro-wx-2100/
Specifications:
HPE ProLiant MicroServer Gen10 Server Specifications
Processor Name
AMD
Processor family
AMD Opteron X3000 Series
Number of processors
1
Processor core available
2 or 4
Processor cache
1 MB L2 2 MB L2
Processor speed
3.4 GHz
Form factor (fully configured)
Ultra Micro Tower
Form factor chassis
MicroServer
Power supply type
1 built-in power supply multi-output
Expansion slots
2 PCIe 3.0, for detail descriptions reference the QuickSpecs
Maximum memory
32 GB
Memory slots
2 standard 288p DIMM slots, maximum
Memory type
HPE DDR4 Standard Memory
Memory protection features
Unbuffered ECC
Drive description
(4) LFF SATA
Non-hot plug, depending on model
System fan features
Non-hot plug, non-redundant
Network controller
Broadcom 5720 2-ports, applicable to all models
Warranty
1/1/1 Server Warranty includes one year of parts, one year of labor, one year of onsite support coverage. Additional information regarding worldwide limited warranty and technical support is available at: www.hpe.com/services/support. Additional Hewlett Packard Enterprise support and service coverage for your product can be purchased locally. For information on availability of service upgrades and the cost for these service upgrades, refer to www.hpe.com/services/support.
Hardware Specs:
HPE ProLiant MicroServer Gen10
HPE ProLiant MicroServer Gen10 is a compact and uniquely designed server that is ideal for small and home offices looking to build their first IT server environment with a form factor that is easy to use. HPE MicroServer Gen10 helps businesses to provide better and easy access to data, more efficiency in operations, while driving down their operating expenses.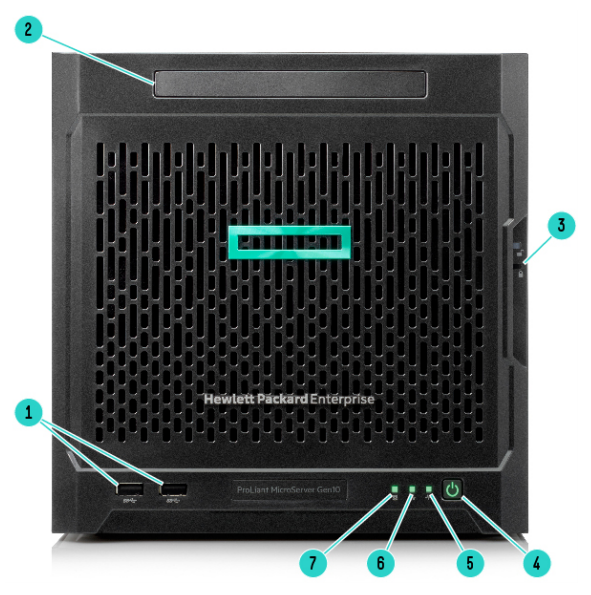 Front View (External)
(2) USB 3.0 ports
Media bay (Optional (1) DVD-RW or (1) SATA SSD)
Front bezel lock/unlock indicators
Power on/Standby button and system power LED
Health LED
NIC status LED
Drive activity LED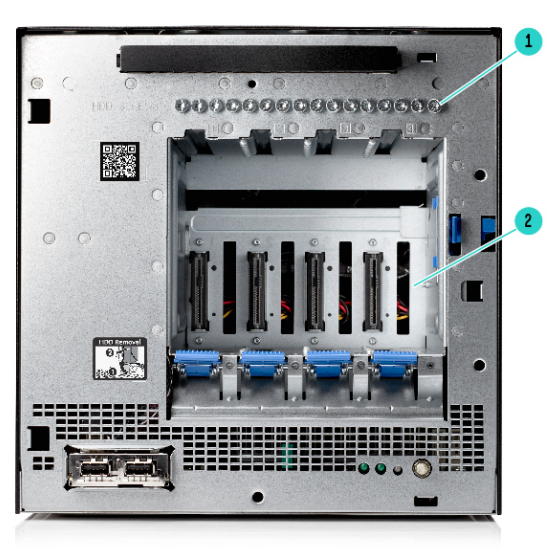 Front View (Internal)
Hard drive screws
Hard drive bays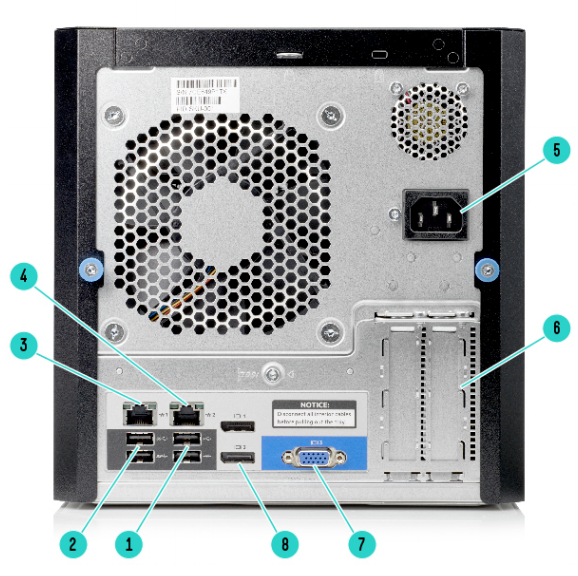 Rear View
(2) USB 2.0 ports
(2) USB 3.0 ports
NIC 1 port
NIC 2 port
Power jack
PCIe Gen3 slots
VGA port
(2) Display Ports 1.2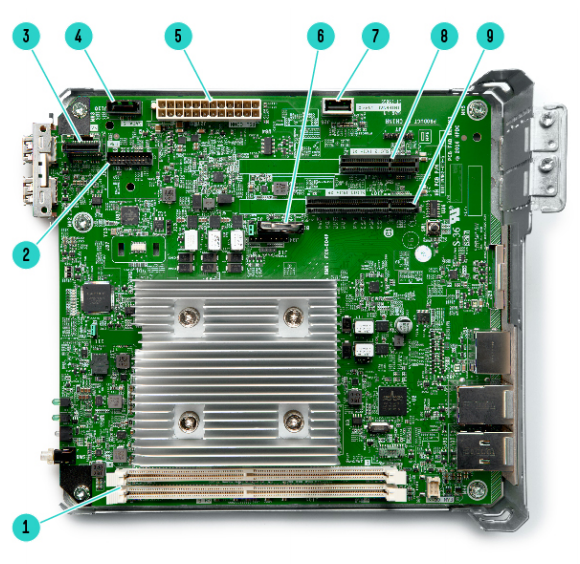 Internal View
DIMM slots
TPM connector
LFF/SFF SATA connector
SATA connector
System board power connector
System battery
Internal USB 2.0 port
Expansion slot 2, PCIe3 x4 (1)
Expansion slot 1, PCIe3 x8 (8, 4, 1)
Services:
HPE Pointnext
HPE Pointnext leverages our breadth and depth of technical expertise and innovation to help to accelerate digital transformation. A comprehensive portfolio that includes—Advisory, Professional, and Operational Services is designed to help you evolve and grow today and into the future.
Operational Services
HPE Flexible Capacity is a new consumption model to manage ondemand capacity, combining the agility and economics of public cloud with the security and performance of on-premises IT.
HPE Datacenter Care offers a tailored operational support solution built on core deliverables. It includes hardware and software support, a team of experts to help personalize deliverables and share best practices, as well as optional building blocks to address specific IT and business needs.
HPE Proactive Care is an integrated set of hardware and software support including an enhanced call experience with start to finish case management helping resolve incidents quickly and keeping IT reliable and stable.
HPE Foundation Care helps when there is a hardware or software problem offering several response levels dependent on IT and business requirements.
Advisory Services includes design, strategy, road map, and other services to help enable the digital transformation journey, tuned to IT and business needs. Advisory Services helps customers on their journey to Hybrid IT, Big Data, and the Intelligent Edge.
Professional Services helps integrate the new solution with project management, installation and startup, relocation services, and more. We help mitigate risk to the business so there is no interruption when new technology is being integrated in the existing IT environment.
Pricing Notes:
Pricing and product availability subject to change without notice.
HPE Products
HPE ProLiant MicroServer Gen10 Server
HPE ProLiant MicroServer Gen10 Server, AMD Opteron X3216, 0 HDD (up to 4LFF), 1x8GB DDR4, 1x200W PS
#873830-S01
Our Price: $285.00