HPE ProLiant ML110 Gen10 Server

ProLiant ML Servers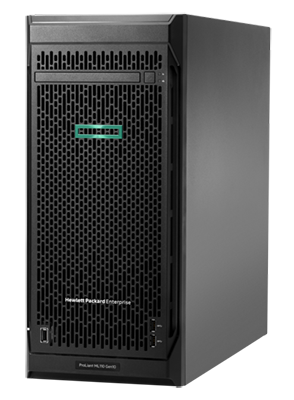 HPE Products
HPE ProLiant ML110 Gen10 Server
HPE ProLiant ML110 Gen10 Server, Intel Xeon 3106 (1), 0 HDD (up to 4LFF), 1x16GB DDR4, 1x550W PS
#P03685-S01
Our Price: $850.00
HPE ProLiant ML110 Gen10 Server, Intel Xeon-B 3204 (1), 0 HDD (up to 4LFF), 1x8GB DDR4, 1x350W PS, S100i
#P10806-001
Our Price: $1,658.32
HPE ProLiant ML110 Gen10 Server, Intel Xeon-B 3204 (1), 0 HDD (up to 4LFF), 1x16GB DDR4, 1x550W PS, S100i
#P10811-001
Our Price: $1,996.72
HPE ProLiant ML110 Gen10 Server, Intel Xeon-B 3204 (1), 0 HDD (up to 4LFF), 1x16GB DDR4, 1x550W PS, S100i
#P19116-001
Our Price: $2,619.72
HPE ProLiant ML110 Gen10 4.5U Tower Server, Intel Xeon Silver 4210 (1), 16GB RAM HDD SSD (up to 8SFF), 1x800W PS
#P10813-001
Our Price: $3,839.72
Click here to jump to more pricing!
Overview:
Are you searching for a tower server with exceptional value to meet the requirements of your small-to-midsized business? The HPE ProLiant ML110 Gen10 server is an enhanced tower with performance, expansion, and growth at an affordable price. It meets most small- and mid-sized businesses' needs as well as accelerates your business compute. The ProLiant ML110 Gen10 is a single processor tower form factor that can also be placed in a rack server cabinet using 4.5U of rack space. It includes up to five PCIe slots with room to grow with eight large form factor (LFF) or 16 small form factor (SFF) disk drives. It provides six DDR4 DIMM slots supporting HPE DDR4 SmartMemory with a maximum capacity of 192 GB. The HPE ProLiant ML110 Gen10 server also offers optional redundant fan and redundant power supply to satisfy automatic fail-over needs, making this the ideal server for small- to mid-sized businesses and remote offices and branch offices.
HPE InfoSight provides a cloud-based analytics tool that predicts and prevents problems before your business is impacted.
New SMB focused offers regionally released as "Smart Buy Express" in the U.S. and Canada, "Top Value" in Europe, and "Intelligent Buy" in Asia Pacific and Japan.
Supports Intel Xeon Scalable processors up to 14 cores and up to 105W.
Supports up to 8 LFF non-hot plug SATA/SAS hard disk drives.
Optional support for redundant fans and up to two graphic processing units (GPUs).
Protect, detect and remover with built-in security features such as silicon root of trust, Runtime Firmware Validation and Secure Recovery.
Pricing Notes:
Pricing and product availability subject to change without notice.
HPE Products
HPE ProLiant ML110 Gen10 Server
HPE ProLiant ML110 Gen10 Server, Intel Xeon 3106 (1), 0 HDD (up to 4LFF), 1x16GB DDR4, 1x550W PS
#P03685-S01
Our Price: $850.00
HPE ProLiant ML110 Gen10 Server, Intel Xeon-B 3204 (1), 0 HDD (up to 4LFF), 1x8GB DDR4, 1x350W PS, S100i
#P10806-001
Our Price: $1,658.32
HPE ProLiant ML110 Gen10 Server, Intel Xeon-B 3204 (1), 0 HDD (up to 4LFF), 1x16GB DDR4, 1x550W PS, S100i
#P10811-001
Our Price: $1,996.72
HPE ProLiant ML110 Gen10 Server, Intel Xeon-B 3204 (1), 0 HDD (up to 4LFF), 1x16GB DDR4, 1x550W PS, S100i
#P19116-001
Our Price: $2,619.72
HPE ProLiant ML110 Gen10 4.5U Tower Server, Intel Xeon Silver 4210 (1), 16GB RAM HDD SSD (up to 8SFF), 1x800W PS
#P10813-001
Our Price: $3,839.72
HPE ProLiant ML110 Gen10 Server, Intel Xeon 4108 (1), 0 HDD (up to 4LFF), 1x16GB DDR4, 1x550W PS
#P03686-S01
Our Price: $2,297.00
HPE ProLiant ML110 Gen10 Server, Intel Xeon 4110 (1), 0 HDD (up to 8SFF), 1x16GB DDR4, 1x800W PS
#P03687-S01
Our Price: $1,177.00
HPE ProLiant ML110 Gen10 Server, Intel Xeon-S 4208 (1), 0 HDD (up to 4LFF), 1x16GB DDR4, 1x550W PS, S100i
#P10812-001
Our Price: $2,360.72