HPE GreenLake

Edge-to-cloud platform

Please visit our HPE Greenlake Online Store for detailed information and pricing.
Love the cloud experience? Looking for hybrid cloud that is right for you? Need flexibility and the right level of security? Open up opportunities across your edges, colos, and data centers with HPE GreenLake, the open and secure edge-to-cloud platform you've always wanted.
HPE GreenLake edge-to-cloud platform delivers greater choice and simplicity with unified experience, new cloud services, and expanded partner ecosystem
WHAT IS HPE GREENLAKE?
Now more than ever, you need to move faster and adapt quickly to change. HPE GreenLake brings the cloud experience to apps and data everywhere, enabling you to adopt transformative technology faster and simplify your operations. HPE GreenLake delivers infrastructure as-a-service for your workloads - on premises, fully managed in a pay-per-use model at the edge, in colocations, and in your data center.
With HPE GreenLake Central, our new intuitive software platform, you can now rapidly deploy services, gain cost and compliance insights, and simplify management across your entire hybrid estate. Free up business users and developers from the traditional wait times with a self-service software platform for the services they need for all their business needs.
HPE GreenLake brings the modern cloud experience to you, everywhere you need it, all managed for you as-a-service by HPE.
Get the Whitepaper - Four essential steps to adopting IT as a service
HPE GREENLAKE
Your open and secure edge-to-cloud platform that powers data-first modernization
Learn about the HPE GreenLake edge-to-cloud platform
WHY HPE GREENLAKE?
#1

BOOST YOUR SPEED AND AGILITY
---
Transforming your apps
For cloud-native and non-cloud native apps alike, HPE GreenLake delivers agility to apps and data where they live – edges, colocations, data centers, giving your developers the resources to work faster and smarter.
Engaging your data for insights and service delivery
HPE GreenLake helps you create essential data and speed insights for your data science teams to unlock data's value, helping you transform the services you deliver across your business.
Speed insights and gain control
Put control and insights in the hands of those who need it: enabling you to showcase cost transparency and control with consumption analytics.
Innovate faster
Free up your staff to better address business needs with technology and have more resources for innovation..
#2

SCALE YOUR BUSINESS WITH HPE GREENLAKE
---
Solve your business challenges with a hybrid infrastructure as-as-service that gives you the agility and economics of public cloud with the security and performance of on-premises IT. Overcome the challenge of moving your data or apps with HPE GreenLake and run your workloads securely from the edge, colocations, and data centers. Features that set us apart include:
Ground-breaking metering technology
Enable a pay-per-use payment model for on-premises infrastructure based on actual usage; advanced capacity management based on usage trends cuts overprovisioning and enables capacity growth ahead of demand.
Professional and operational services
We do the heavy lifting of managing your environment with services built into our consumption-based solutions.
Streamlined, automated management
HPE GreenLake Central gives you a unified view of all your IT operations and lets your provision, monitor, and manage infrastructure with cloud-native controls.
All the workloads you need
HPE GreenLake supports almost any technology from HPE. Depending on your needs, level of expertise, and in-house IT resources you can select from pre-configured end-to-end solutions or modular solutions that offer choice of infrastructure.
EXPLORE HPE GREENLAKE CENTRAL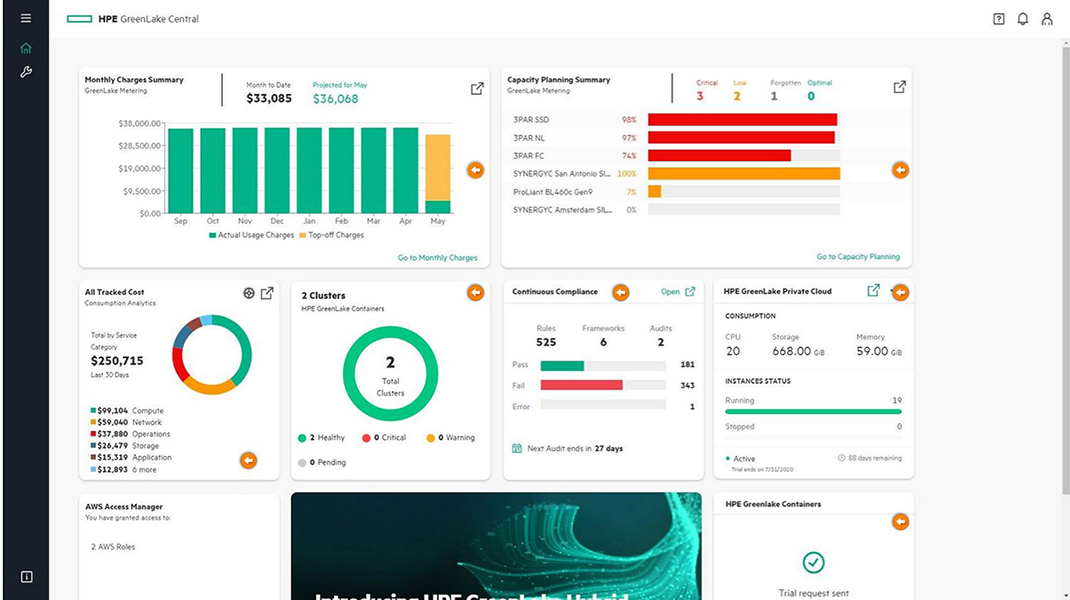 Experience HPE GreenLake cloud services