HPE Slingshot 200Gb Switch for Cray System

HPE Cray Supercomputer
Sorry, this product is no longer available, please contact us for a replacement.
Click here to jump to more pricing!
Overview:
A high performance network for HPE Cray supercomputers designed for exascale era supercomputing of diverse simulation, modeling, AI, and analytics workloads on one system.
Ethernet compatible, HPE Slingshot enables straightforward execution of cloudlike and converged workloads in a supercomputing environment. Cloud, AI and IP based applications and frameworks run without modification on HPE Slingshot enabling a new class of users to transition from traditional cloud-based computing to take advantage of supercomputing performance, capabilities, and scale.
HPE Slingshot Solutions for HPC Networking
HPE Slingshot delivers the performance, scalability, connectivity, and TCO advantages for the most challenging HPC and Scale-Out Ethernet applications. Available in two form factors supporting both air and liquid cooled HPE Cray supercomputers.
Industry-leading performance and scalability
100GbE and 200GbE interfaces
High radix, 64-port, 12.8 Tb/s bandwidth switch
Scalability to >250,000 host ports with maximum of 3 hops
Innovative hardware congestion management, adaptive routing, and quality of service
Ethernet standards and protocols, plus optimized HPC functionality
Link level retry and low-latency forward error correction
Standardized, open API management interfaces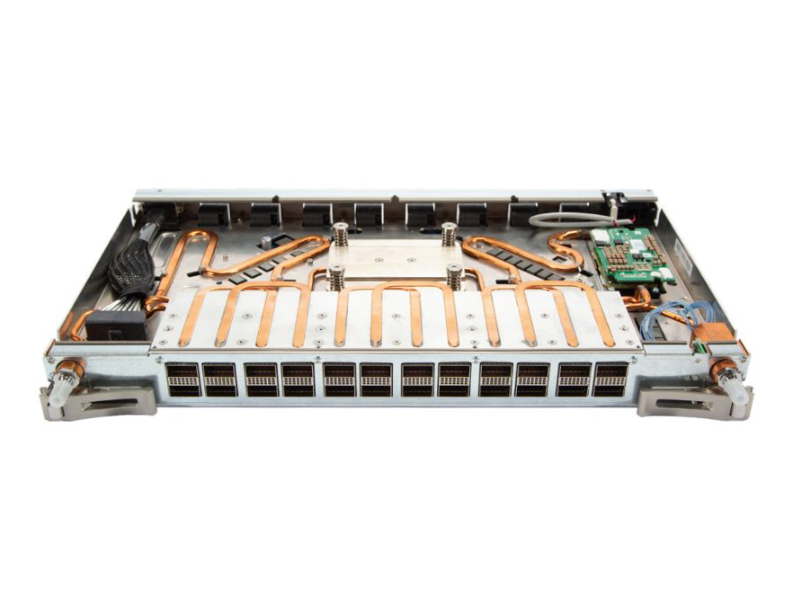 HPE Slingshot switch for the HPE Cray EX liquid-cooled system
The HPE Slingshot switch for the HPE Cray EX liquid-cooled system comes in a switch blade containing the fabric switch silicon, printed circuit board with connections for compute blades, and all components for cooling and power. The architecture supports up to 8 switch blades per switch chassis and up to 64 switch blades per cabinet.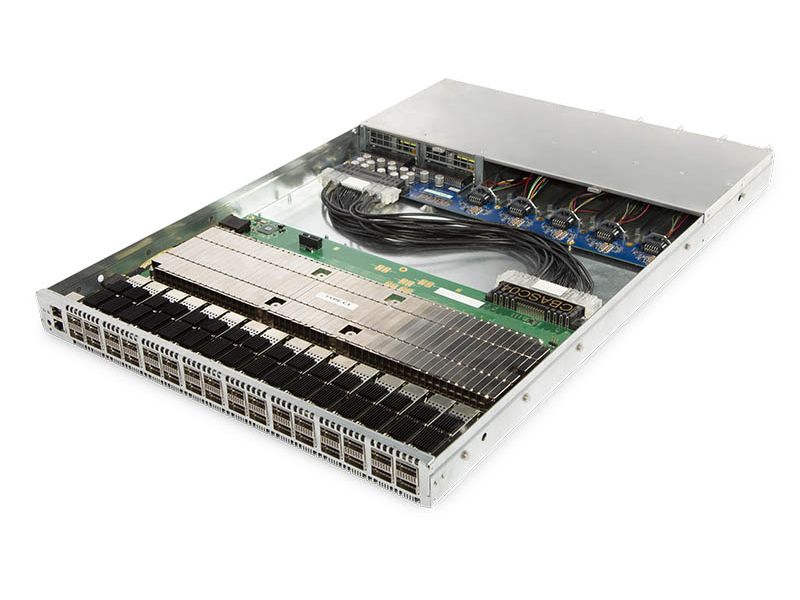 HPE Slingshot top of rack switch for air-cooled HPE Cray Supercomputers
The HPE Slingshot top of rack switch for air-cooled HPE Cray Supercomputers comes in a TOR 19" 1U standard form factor. It has 64 front-facing ports for cabling.
Features:
Deliver the performance, scalability, connectivity, and TCO advantages for the most challenging HPC and Scale-Out Ethernet applications.
Over 1.2 billion packets per second per port
A high rate of small packets is an increasingly important metric for many applications. Supporting link speeds of 200 Gb/s, HPE Slingshot provides state-of-the-art small packet performance on standard links with more than 1.2 billion packets per second per port (600M packets per second each direction). The HPE Slingshot network delivers high packet rates on IP, messaging, and remote memory access.
Control your network bandwidth allocations
The ability to manage network resources is highly developed in scale-out data centers but absent from many HPC systems. HPE Slingshot provides system-wide quality of service (QoS) classes. With these comes the ability to control how network bandwidth is allocated. Individual jobs can be assigned to different QoS classes ensuring high priority jobs get the network resources they require. Multiple classes can even be assigned to different traffic classes (bulk vs. low latency as example) within a job.
Let the network route your traffic
Rather than routing traffic along a predetermined path, HPE Slingshot intelligently routes packets dynamically according to load. The route is determined using real-time, global information on load and is gathered by the hardware and distributed among the switches providing an up-to-date picture of which paths to use or avoid. This enhanced approach provides both adaptive routing of ordered flows, and packet-by-packet adaptive routing of traffic that does not require ordering.
Limit impact of network congestion
HPE Slingshot employs a revolutionary congestion management mechanism that provides strong performance isolation between workloads, limiting the impact of poorly behaved applications on production traffic and system services. Congestion management is performed automatically in hardware, quickly identifying sources of congestion and limiting their ingress, while allowing other traffic to continue flowing. The mechanism is stable, quick to converge, robust across a wide variety of traffic patterns, and suitable for the highly dynamic communication patterns found in today's HPC and converged workloads.
Easy interface to your datacenter infrastructure
To enhance interoperability with storage architectures and datacenters, HPE Slingshot was designed to be Ethernet compatible. This means HPE Slingshot switches can connect directly to third-party Ethernet-based storage devices as well as to datacenter Ethernet networks. Applications running on HPE Cray supercomputers can directly exchange IP/Ethernet traffic with the outside world, making it easier and more efficient to ingest data from external sources — an increasingly important consideration in this highly networked and data-driven world.
Minimize switch to switch hops even in larger networks
HPE Slingshot's high radix 64 port switch coupled with the Dragonfly topology scales can scale to over 250,000 endpoints with a maximum of three switch-to-switch hops between any endpoints. In addition to latency improvements in larger installations, this low-diameter network reduces network equipment, cabling, and power and cooling costs. It also facilitates the use of innovative adaptive routing algorithms that improve application performance.
Specifications:
HPE Slingshot 200Gb 64-port QSFP-DD 1U Switch Specifications
Weight
61.729 lb (28 kg)
Product Dimensions
29.92 x 45.67 x 7.87 in (76 x 116 x 19.99 cm)
HPE Slingshot 200Gb 64-port Switch Blade Specifications
Weight
30.865 lb (14 kg)
Product Dimensions
27.56 x 31.5 x 3.94 in (70 x 80.01 x 10.01 cm)
Services:
HPE Pointnext
HPE Pointnext Services leverages our strength in infrastructure, partner ecosystems, and the end-to-end lifecycle experience, to accelerate powerful, scalable IT solutions to provide you the assistance for faster time to value. HPE Pointnext Services provides a comprehensive portfolio including Advisory and Transformational, Professional, and Operational Services to help accelerate your digital transformation.
Operational Services
HPE Datacenter Care: HPE's most comprehensive support solution tailored to meet your specific data center support requirements. It offers a wide choice of proactive and reactive service levels to cover requirements ranging from the most basic to the most business-critical environments. HPE Datacenter Care Service is designed to scale to any size and type of data center environment while providing a single point of contact for all your support needs for HPE as well as selected multivendor products.
HPE Critical Service: High-performance reactive and proactive support designed to minimize downtime. It offers an assigned support team, which includes an account support manager (ASM). This service offers access to the HPE Global NonStop Solution Center, 24x7 hardware and software support, six-hour call-to-repair commitment, enhanced parts inventory, and accelerated escalation management.
HPE Proactive Care: Provides proactive and reactive support delivered under the direction of an ASM. It offers 24x7 hardware support with four-hour on-site response, 24x7 software support with a two-hour response, and flexible call submittal.
HPE Foundation Care: Support for HPE servers, storage, networking hardware, and software to meet your availability requirements with a variety of coverage levels and response times.
Advisory and Transformation Services
Advisory and Transformation Services—HPE Pointnext Services designs the transformation and builds a road map tuned to your unique challenges including hybrid cloud, Workload and Application Migration, Big Data, and the edge. Hewlett Packard Enterprise leverages proven architectures and blueprints, as well as integrates with partner products and solutions. We also engage the Professional and Operational Services teams as needed.
Professional Services
Professional Services—HPE Pointnext Services creates and integrates configurations that get the most out of software and hardware, and works with your preferred technologies to deliver the optimal solution. Services provided by the HPE Pointnext Services team, certified channel partners, or specialist delivery partners include installation and deployment services, mission-critical and technical services, and education services.
Pricing Notes:
Pricing and product availability subject to change without notice.