HPE StoreFabric SN1200E 16Gb 1-Port Fibre Channel Host Bus Adapter

HPE StoreFabric Fiber Channel Host Bus Adapters for ProLiant Server to Storage Attach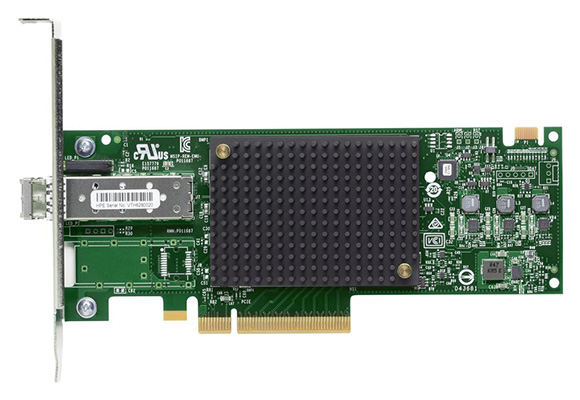 HPE Products
HPE StoreFabric Host Bus Adapter
HPE StoreFabric SN1200E 16Gb 1-Port Fibre Channel Host Bus Adapter
#Q0L13A
Our Price: $1,705.00
Click here to jump to more pricing!
Overview:
Is your data center poised to take the 16 Gb step in Fibre Channel (FC) connectivity? The growth in enterprise flash storage and the deployment of servers with multi-core processors is driving the need for high performance storage networking to prevent application performance bottlenecks. The FC Host Bus Adapter (HBA) is a critical element of this storage network to improve storage performance. The HPE StoreFabric SN1200E 16Gb Fibre Channel Host Bus Adapters deliver the high bandwidth, low latency and high IOPs to meet any application requirements, from online transaction processing or data warehousing to backup/restore and OpenStack Cinder block storage. Supporting higher virtual machine density on powerful host servers, the SN1200E 16Gb HBAs delivers increased ROI on enabling more applications and virtual machines to run on a single server and I/O port without impacting SLAs. The 16 Gb FC HBA is backward compatible with 8 and 4 Gb FC storage networks to protect legacy investments.

Features:
The High Performance Fibre Channel Host Bus Adapters
The HPE StoreFabric SN1200E 16Gb Fibre Channel Host Bus Adapters deliver twice the I/O performance of 8Gb Fibre Channel (FC) Host Bus Adapters (HBAs) while being backward compatible with 8 and 4Gb FC environment.
Moving to 16 Gb technology provides the infrastructure required for the more powerful servers and data intensive applications of the future.
When using storage intensive applications like backup/restore, database transactions, virtualization and rich media, the improved I/O performance enables faster storage and retrieval of data.
Faster Flash
The HPE StoreFabric SN1200E 16Gb Host Bus Adapters accelerate the time to business insight by completing data warehousing queries faster than 8 Gb FC HBAs.
Meets the massive bandwidth requirements of flash storage arrays.
Increases the performance of flash-based storage by prioritizing mission critical traffic in congested networks with exclusive ExpressLane feature.
Better Virtualization
The HPE StoreFabric SN1200E 16Gb Host Bus Adapters provides near limitless scalability to support increased virtual machine (VM) density with 2x more on-chip resources and bandwidth than previous offerings.
Improves the virtual desktop infrastructure (VDI) end-user experience with low latency features providing noticeable improvements during boot storms (degradation of service that occurs when a significant number of end-users boot up within a very narrow time frame and overwhelm the network).
Simplifies management and installation with OneCommand Manager plugin for VMware vCenter server.
Enhanced Features
The HPE StoreFabric SN1200E 16Gb Fibre Channel Host Bus Adapters are designed to support emerging NVM Express (NVMe) over Fibre Channel storage networks.
Provides latest security features that averts unauthorized access to the Host Bus Adapter (HBA) firmware.
T10 Protection Information (T10-PI) data integrity with high performance hardware offload provides data protection from the server to the storage array.
Specifications:
HPE StoreFabric SN1200E 16Gb 1-Port FC HBA Specifications
Product Type
Fibre Channel Host Bus Adapter
Total Number of Fibre Channel Ports
1
Data Transfer Rate
16 Gbit/s
Host Interface
PCI Express
Servers supported
HPE ProLiant platforms
Refer to server QuickSpecs for details regarding option support.
Compatible operating systems
SUSE Linux Enterprise Server
Red Hat Enterprise Linux
Microsoft Windows Server 2008 (32/64-bits)
VMware ESXi
VMware ESX
Microsoft Windows Server 2008 R2 (64-bits)
Form Factor
Plug-in Card
Card Height
Low-profile
Product dimensions (H x W x D)
4.75 x 0.845 x 7.31 in 
Weight
4.51 oz 
Warranty (parts-labor-onsite)
3/0/0
Services:
Expert HPE storage consultants and service professionals sit down with you and your team to map your storage needs. Not only can we help you accelerate implementation and reduce deployment risk, but we can also help you realize the full value of your storage purchases.
Advise, transform, and integrate: Navigate through the complexities of storage, backup, archive, disaster recovery, and Big Data with advisory, transformation, and integration consulting
Deploy and implement: Access expertise to support deployment, operations, relocation, sanitization, and disposal, plus improvementfocused education
Operate and support: Find the level of personalized, proactive, and simplified support right for your business:
HPE Foundation Care Services
System-level IT hardware and software support delivers flexible coverage window and response time for more choice and simplicity.
HPE Proactive Care Services
Combined reactive and proactive services provide easy-to-purchase, cost-efficient, system-level support coupled with personalized expert advice and products connected to Hewlett Packard Enterprise to help prevent problems and reduce downtime.
HPE Datacenter Care Services
Get the support you need to deploy, operate, and evolve your data center environment to be hybrid cloud ready with single point of accountability for HPE and others' product.
Note: Specific service availability varies by product.
Pricing Notes:
Pricing and product availability subject to change without notice.
HPE Products
HPE StoreFabric Host Bus Adapter
HPE StoreFabric SN1200E 16Gb 1-Port Fibre Channel Host Bus Adapter
#Q0L13A
Our Price: $1,705.00