HPE XP8 Storage

XP Storage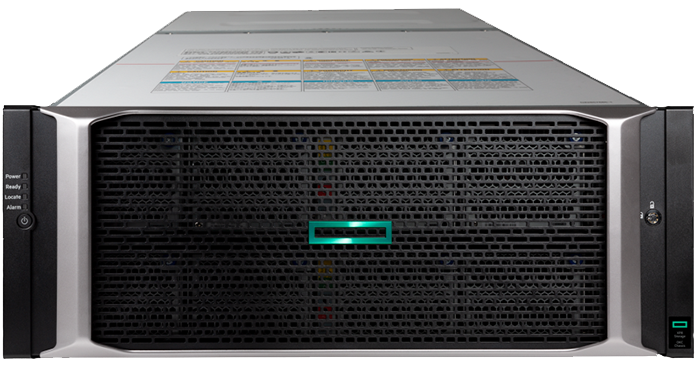 Click here to jump to more pricing!
Overview:
Do you require 100% uptime on your data center storage infrastructure without compromising on other attributes such as performance, scale, and flexibility?
The HPE XP8 Storage array is the newest addition to the HPE XP storage family that has achieved 6-years of demonstrated 100% data availability across the entire installed base. There is no room to improve on 100%, but XP8 is raising the bar by delivering industry leading 8-nines of platform availability, nearly assuring continued 100% availability well into the future.
Without compromise means that XP8 also provides unrivaled performance, scale and flexibility. In terms of performance, XP8 delivers over 20 million IOPs, well beyond the nearest competitor. XP8 enables scalability up to 69 petabytes of internal capacity, plus up to 255 PB of virtualized external capacity. Available in Hybrid or Flash, SAS or NVMe, HDD, SSD, FMD, or SCM, Entry or Performance configurations. Whatever your need, HPE XP8 has you covered.
HPE XP8 Storage is a mission critical flash storage for enterprises requiring Tier-0 enterprise storage for mission-critical apps that require absolutely zero downtime. XP8 is the 8th generation in the very successful XP product line. The previous generation XP7 Storage was designed as a 7-nines architecture and did not have a single second of downtime across the entire installed base since launch in April 2014, delivering on the 100% data availability guarantee. The XP8 Storage takes this a step forward, XP8 Storage is designed for 8-nines of availability. XP8 also delivers more than 4 times improvement in performance compared to XP7 and has an intelligent management suite of software for simplified management and proactive support.
The XP portfolio contains a robust set of software that drastically reduces storage management and provisioning complexity as well as delivering advanced multi-datacenter high availability, migration, and automation. The essential software for provisioning and managing the storage array is included along with the XP8 Storage controller, making it simpler and economical to purchase software.
Together, XP8 hardware and software deliver unmatched availability, performance, and scale. Rest easy knowing that XP8 will always be online. No downtime for any reason, and backed up the XP8 100% data availability guarantee.
HPE XP8 is available in two models: HPE XP8 All-Flash Storage Array and HPE XP8 Hybrid Array. Both models can be purchased in either Base (2-controller) or Performance (4-controller) versions, and can scale up to a fully-loaded 12-controller configuration.
What's New
Get breakthrough performance and lower latency with new 375 GB Storage Class Memory (SCM) media. Perfect solution for hot data, with support for DeCo, Encryption, and Smart tiering.
QoS enhancements for more service level control. Set upper limits on Volume Group IOPs and MB/s.
Non-disruptive migration for CA-sync configurations from HPE XP7 to XP8.
Expanded Online Migration support for data movement from non-XP storage to XP8 storage.
Online volume expansion support with HA/CA/CAJ/BC/FS.
Pricing Notes:
Pricing and product availability subject to change without notice.