HPE Persistent Memory

Innovative memory technology that transforms critical data workloads.
HPE Persistent Memory provides fast, high-capacity, cost-effective memory and storage to transform big data workloads and analytics possibilities — enabling data to be stored, moved, and processed at unprecedented speed, improving TCO.
How Persistent Memory Works For You
The need for businesses to consume and quickly manage vast amounts of data continues to challenge today's data center infrastructure. HPE Persistent Memory delivers the right capacity for the right application.
Resilient technology
Enable greater operational agility, service uptime, business continuity, and security.
Breakthrough performance
Ensure better performance and faster business outcomes for data-intensive workload computing.
Scalable efficiency
Manage data center costs and IT spend to lower TCO, without sacrificing application performance.
HPE 16 GB NVDIMM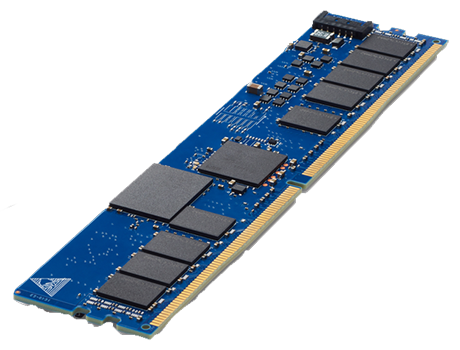 The HPE 16 GB NVDIMM delivers twice the capacity of the first-generation HPE NVDIMM. It also delivers double the performance and half the latency using byte-addressable storage features and up to 50% reduction in database licensing costs using the fastest tier of storage on select HPE servers. HPE NVDIMMs only work on first-generation Intel Xeon Scalable processors.
HPE NVDIMMs are the newest non-volatile memory offering in the HPE Persistent Memory product category. They provide the right-sized capacity for removing smaller storage bottlenecks, reducing latency and increasing processing speeds significantly. HPE NVDIMMs also have the resiliency you have come to expect from storage technology by utilizing higher endurance DRAM and components that help verify data is moved to non-volatile technology in the event of a power loss. Customers can have the assurance that data will be accessible when they need it. This offering provides customers with the best of both worlds, the performance of memory and the persistence of storage, but that's not all. HPE NVDIMMs are not just new hardware technology, but a complete software ecosystem designed to work with today's applications and workloads, including databases and analytics workloads.
HPE Products
HPE Persistent Memory
HPE 16GB NVDIMM Single Rank x4 DDR4-2666 Module Kit
#845264-B21
Our Price: $1,089.00