HPE Apollo 6000 Chassis

Extreme compute performance in a high-density package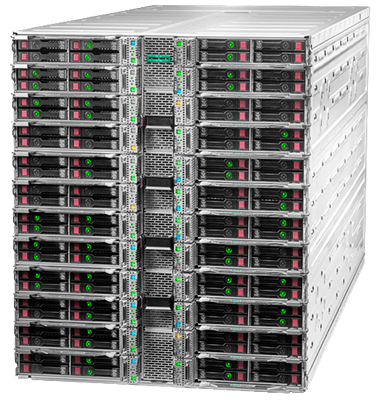 Click here to jump to more pricing!
Overview:
The HPE Apollo a6000 Chassis provides power, cooling, and I/O infrastructure to support HPE ProLiant XL Servers and options today and for years to come. This 5U chassis holds up to 10 server trays vertically and fits in a standard rack. The Innovation Zone in the back of the chassis holds up to 10 I/O modules, with dual HPE FlexibleLOMs supporting 1GbE or 10GbE. Power is delivered through an external 1.5U power shelf (14.4 kW or 15.9 kW) supporting up to 6 chassis depending on power load. Choose from single or 3-phase AC input, with 12 x 12V DC cables from the power shelf to the chassis. An HPE Advanced Power Management module helps optimize rack, chassis, and server power insight and management.
Flexible, Modular Infrastructure

The 5U HPE Apollo a6000 chassis accommodates up to 10 hot-swap server trays.
The Innovation Zone at the back of the chassis features 10 I/O modules with choice of 1GbE or 10GbE.
Rear cabled cold aisle servicing, this density optimized chassis fits standard racks.

Rack Scale Efficiency

Rack level management, networking and cabling consolidation with chassis-level HPE iLO port aggregation and chassis-to-chassis serial HPE iLO connections.
Chassis, power and cooling is shared across servers, and chassis for rack scale efficiency.
HPE Advanced Power Manager provides single console insight and management for racks, chassis, servers and more.
Fast, resilient and secure compute, storage and fabric technologies, with rack-level efficiencies delivering exceptional price/performance
Whether you're designing an airplane, discovering an oil reservoir, creating a feature‑length animated film, detecting fraud, or mapping the human genome—high-performance computing (HPC) enables you to bring more innovative, higher-quality products and services to the market faster than ever before. In many cases, HPE solution for HPC workloads makes it possible for you to solve problems that simply could not be solved otherwise.
Even so, enterprises are challenged to solve these highly complex computational problems quickly and with lower IT overhead—while minimizing unexpected costs and simplifying rack-level HPC deployments.
To address the growing demand for HPC and the relentless pursuit of efficiency, HPE has taken the lead on a new approach—thinking beyond the server and designing a rack-level solution that gives you the right compute at the right economics. The HPE Apollo 6000 Gen10 System offers you excellent compute performance with rack-level air-cooled density, and flexibility to tailor the system to precisely meet the most demanding HPC workload requirements.
For comprehensive HPE solution you may choose the HPC software suite and HPE Pointnext Services to build and support IT at scale to drive your business success.
Pricing Notes:
Pricing and product availability subject to change without notice.