HPE Synergy Image Streamer

Composable bladed infrastructure for any workload in a hybrid cloud environment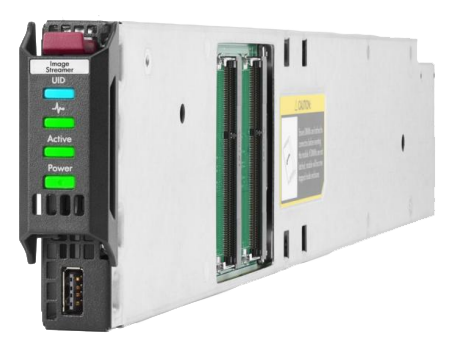 Click here to jump to more pricing!
Overview:
Can HPE Synergy provision physical servers at cloud-like speed? Using HPE Synergy Image Streamer, you can rapidly change images on multiple compute nodes in an automated manner. HPE Synergy Image Streamer works with HPE Synergy Composer to rapidly deploy and update multiple physical compute nodes. Operating environment images for bare-metal use might boot directly into a running OS, or VM hosts might perform quick image changeovers. This 'infrastructure-as-code' capability maximizes your return on your systems investment by quickly delivering applications and services and by enabling rapid workload switching (across Linux, ESX, or MS Windows). Enhanced profiles provide true stateless images, which are automatically integrated with server hardware configurations and operating environment images for simplicity of use. Programmatic access is also provided through the Unified API. Integrate, automate, and customize your operations using HPE Synergy Image Streamer.
Certificate Manager user interface added for primary and secondary appliances.
VMware ESXi 6.7U1 support.
Support for Microsoft Windows Server 2019 and Microsoft Hyper-V Server 2019
Pre-upgrade checks to ensure that the Image Streamer management and storage clusters are healthy to prevent disruptions in the upgrade process.
Dedicated Image Streamer ports on new Synergy interconnect modules (Virtual Connect SE 100Gb F32 Module for HPE Synergy) include two (2) dedicated SFP+ ports (X1 and X2) for Image Streamer use for deployment network connectivity.
Operations by Image Streamer when managed by new HPE Synergy Composer2 management appliances (in addition to management by HPE Synergy Composer).
OS deployment artifacts for Image Streamer operation with:

SLES 12 SP3 and SP4 versions,
SLES OS with BTRFS filesystem using artifacts with FAT32 content,
RHEL 7.6 version, and
RHEL OS with XFS filesystem using artifacts with FAT32 content.

Support tools bundled into Image Streamer for use by HPE Support to check the health of the management appliance.
Pricing Notes:
Pricing and product availability subject to change without notice.