HPE StoreFabric SN1610Q 32Gb 1-Port Fibre Channel Host Bus Adapter

HPE StoreFabric Fiber Channel Host Bus Adapters for ProLiant Server to Storage Attach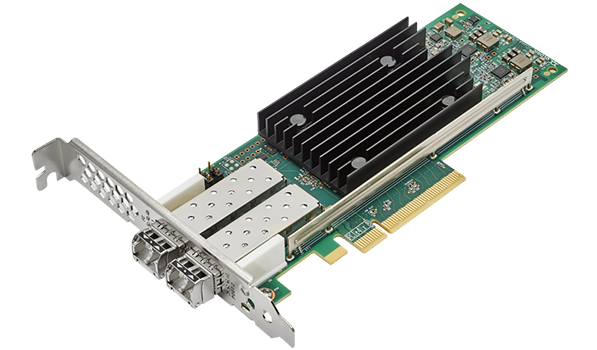 HPE Products
HPE StoreFabric Host Bus Adapter
HPE StoreFabric SN1610Q 32Gb 1-Port Fibre Channel Host Bus Adapter
#R2E08A
Our Price: $2,650.00
Click here to jump to more pricing!
Overview:
Are you looking for a high-performance Fibre Channel (FC) adapter for the modern storage area network?
With improvements in server performance, increased virtualization, as well as flash and NVMe storage, the existing storage can become the bottleneck in your environment. The FC host bus adapter (HBA) is a critical element of this storage area network to improve storage performance.
The HPE SN1610Q 32Gb Fibre Channel Host Bus Adapter provides significant I/O performance and security benefits to accelerate databases, host more virtual machines, support emerging technologies such as NVMe and reduce total cost of ownership. It delivers better business outcomes across multiple industry verticals that rely on high performance, safe, and reliable storage connectivity for their storage infrastructure.
Features:
32 Gb High-performance Fibre Channel Host Bus Adapters
HPE SN1610Q 32Gb Fibre Channel Host Bus Adapter offers higher bandwidth, better latency, enhanced security, and operational efficiency for 32 GFC storage area networks.
Performance of up to 2 million IOPS and 12,800 Mbps of aggregate throughput. Simultaneous support for FCP-SCSI and FC-NVMe to make transition from legacy SCSI environments to new NVMe environments seamless.
Higher performance with existing server investments when compared to 16 Gb FC adapters.
More data moved per watt of power consumed when compared to 16 Gb FC adapters.
High Performance and Enhanced Capability For Critical Workloads and High SLA Environments
HPE SN1610Q 32Gb Fibre Channel Host Bus Adapter supports N_Port ID virtualization (NPIV), virtual machine ID (VM-ID), and industry standards-based class-specific control (CS_CTL). These provide end-to-end quality of service (QoS).
Improve database transactional performance, enable faster business decisions with better data mining, and host more VMs.
Port isolation design delivers deterministic and scalable performance on each port.
Provides hardware root of trust to protect against malicious firmware downloads.
Delivers enhanced security via the new secure firmware update feature which protects and ensures the authenticity of device firmware.
Lower Total Cost of Ownership (TCO)
HPE SN1610Q 32Gb FC HBA integrates with HPE SmartSAN, HPE Smart Fabric Orchestrator, HPE B-Series, and HPE C-Series switch management platforms, reduces total cost of ownership (TCO) and improves reliability.
Support for Fabric Assigned – World Wide Network (FA-WWN) and FragmentBased Lead Discovery (F-BLD) provides fabric pre-provisioning services to simplify SAN deployment and orchestration.
With support for features such as D-port diagnostics, Link Cable Beaconing (LCB), Read Diagnostic Parameters (RDP), enhanced FDMI, FC Ping, and FC Trace Route, administrators can quickly run many automated diagnostic tests to assess the health of links and fabric components.
PCI Express (PCIe) 4.0 Support
HPE StoreFabric SN1610Q 32Gb Fibre Channel Host Bus Adapter includes PCIe 4.0 and provides better interconnect performance bandwidth when compared to PCIe 3.0.
Specifications:
HPE SN1610Q 32Gb 1-port Fibre Channel Host Bus Adapter Technical Specifications
Product Number (SKU)
R2E08A
Number of Ports
Single
Bus Type
PCIe 4.0
Connector Type
SFP+
Form Factor
2U
Server Type Supported
HPE ProLiant platforms.
Compatible Operating Systems
Red Hat®, Linux® SUSE Linux, VMware®, Microsoft®, Windows®.
Visit www.hpe.com/storage/spock for the latest available information on Operating System support.
Power
10W Max -No SFP
Compatible Array Platforms
HPE MSA family, HPE XP family, HPE 3PAR family, and HPE Nimble Storage family.
Visit www.hpe.com/storage/spock for the latest available information on array support.
Warranty Standard Statement
Three-year limited warranty, parts exchange next business day delivery. For more warranty information refer to http://www.hpe.com/storage/warranty
Weight (imperial)
3.95 ounces
Weight (metric)
Single Port : 113 g
Product Dimensions (metric)
68.9 x 167.6 mm
Services:
HPE Pointnext
HPE Pointnext leverages our breadth and depth of technical expertise and innovation to help to accelerate digital transformation. A comprehensive portfolio that includes—Advisory, Professional, and Operational Services is designed to help you evolve and grow today and into the future.
Operational Services
HPE Flexible Capacity is a new consumption model to manage ondemand capacity, combining the agility and economics of public cloud with the security and performance of on-premises IT.
HPE Datacenter Care offers a tailored operational support solution built on core deliverables. It includes hardware and software support, a team of experts to help personalize deliverables and share best practices, as well as optional building blocks to address specific IT and business needs.
HPE Proactive Care is an integrated set of hardware and software support including an enhanced call experience with start to finish case management helping resolve incidents quickly and keeping IT reliable and stable.
HPE Foundation Care helps when there is a hardware or software problem offering several response levels dependent on IT and business requirements.
Advisory Services includes design, strategy, road map, and other services to help enable the digital transformation journey, tuned to IT and business needs. Advisory Services helps customers on their journey to Hybrid IT, Big Data, and the Intelligent Edge.
Professional Services helps integrate the new solution with project management, installation and startup, relocation services, and more. We help mitigate risk to the business so there is no interruption when new technology is being integrated in the existing IT environment.
Pricing Notes:
Pricing and product availability subject to change without notice.
HPE Products
HPE StoreFabric Host Bus Adapter
HPE StoreFabric SN1610Q 32Gb 1-Port Fibre Channel Host Bus Adapter
#R2E08A
Our Price: $2,650.00