HPE Integrity NonStop NS2300 Server

For businesses that run nonstop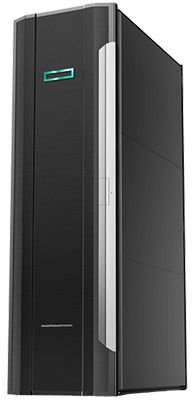 Click here to jump to more pricing!
Overview:
Provide uninterrupted access to information and services
Today's customers expect instant access to information and services. To maintain your competitive ability, a nonstop business environment is essential and downtime is simply not an option.
HPE Integrity NonStop servers are widely recognized as one of the best choices for complex enterprise applications. Their integrated hardware, operating system, and database stack provide the ultimate in scalability and contribute to a server platform with one of the highest built-in reliability, availability, and serviceability (RAS) levels in the industry.
The HPE Integrity NonStop NS2300 runs on the J-series HPE NonStop operating system. The server shares the same unique HPE NonStop platform attributes, such as low total cost of ownership (TCO), real-time database, integrated stack, end-to-end security, and massive scalability, while delivering the same high level of availability and data integrity as the high-end HPE BladeSystem.
Powered by the Intel Itanium Processor 9500 Series, you gain the advantage of one of the world's most available systems, leveraging an innovative microprocessor technology that can target multiple demand levels of complex applications with improved price and performance.
The HPE Integrity NonStop NS2300 Server provides users with a single-system view of applications. And it can efficiently and transparently make use of up to four processors to promote fast response times in a variety of demanding applications. These include complex payment systems, billing environments, securities trading, and electronic patient records solutions.
Key Features
Standards-based architecture using the Intel Itanium processor 9500 series
Standards-based, open computing— HPE NonStop infrastructure supports all relevant open standards for ease of application development and portability
A flexible platform for heterogeneous environments with a choice of application architectures and management tools
A uniquely designed architecture for the absolute highest levels of availability1 and reliability to enable continuous business
A fully integrated stack of hardware, operating system, database, and software with low TCO
Complete application compatibility with all other HPE Integrity NonStop servers
Pricing Notes:
Pricing and product availability subject to change without notice.