HPE StoreEver Tape Storage

Proven enterprise tape backup and storage solutions that retain your valuable data for longer and for less, as your business data continues to grow.
Why tape storage is in-demand for data retention
From cyber-attacks to natural disasters, the threat landscape for data loss is growing. Traditional tape storage continues to be in strong demand as a cost-effective, reliable and secure storage method to protect and retain your data in the long term.
Address all your business' retention and compliance needs with our complete portfolio of HPE tape solutions and services. Protect your data for as little as $0.005 per GB for life1, plus gain air-gap protection against ransomware and data corruption. Make HPE StoreEver tape storage even simpler to use and manage with our unique tape library management software. Create a more efficient HPC environment by automating cold-data placement in your tiered storage system to HPE tape storage solutions using HPE Data Management Framework software.
Store up to 240 TB with LTO-8 in a compact 1U form factor. Customer-installable, configurable and upgradable 0-drive tape autoloader that's ideal for entry-level or remote office environments.
Address the data protection and retention needs of your remote or entry-level storage environments with scalable capacity up to 720 TB with LTO-8 and simple web-based management.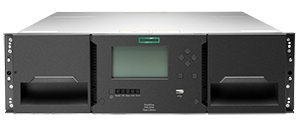 Handle backup and long-term data management and retention challenges in small to mid-sized organisations with a secure tape storage solution. This modular design can reuse existing HPE MSL LTO upgrade drive kits, cost-effectively storing up to 8.4 PB of data.