Cloud Storage

HPE Nimble Storage delivers the ideal solution for cloud service providers, SaaS vendors, and enterprises looking to achieve cloud-like agility. With Nimble's Storage on Demand pricing, organizations can pay for on-premise storage much in the way they would any utility – based on usage and without the rigidity of a long-term contract.
HPE Nimble Storage's Predictive Flash platform allows storage resources to be intelligently and dynamically allocated to satisfy the mixed workloads common to today's cloud services. Sophisticated space-saving features reduce datacenter footprint by as much as 75 percent, dramatically decreasing storage and datacenter costs.
Overview: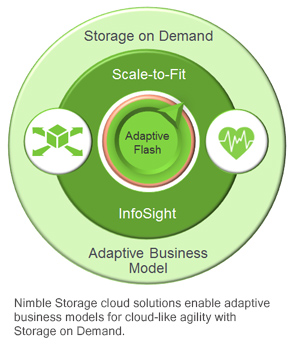 InfoSight, Nimble's cloud-based storage management portal, simplifies storage service management, allowing cloud operators to manage and monitor storage and service levels from a single Web browser.
More then 350 independent service providers use Nimble's cloud solutions, taking advantage of their simplicity, efficiency and reliability.
Nimble delivers these benefits for cloud builders and operators:
Pay for the storage you use. Don't pay for the storage you don't use. Nimble's Storage On Demand takes the guesswork out of buying storage, allowing you to choose a performance level, and pay only for the capacity you use.
Get better than 99.999 percent measured system availability. Nimble's resiliency, data protection, and data recovery features enable cloud builders to launch 24/7 cloud services available even in the event of a disaster.
Dramatically reduce your datacenter footprint. The underlying efficiencies of Nimble's Adaptive Flash platform, together with features like in-line data compression and zero-copy cloning mean that Nimble arrays use as much as 75 percent less space than competing storage solutions, dramatically cutting operating costs.
Simplify storage management with InfoSight. Nimble's cloud-based management portal offers a complete view of all storage resources and monitors service levels from a single Web browser.


Storage on Demand – Pay-Per-Use Pricing
On demand, per-GB-per-month usage pricing for HPE Nimble Storage flash arrays. You pay only for what you use, and we automatically deliver enough storage to ensure you never run out. Pay only for what you use monthly without any long-term contracts.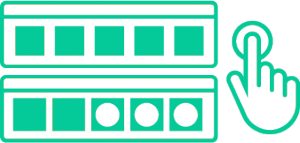 Connect Your Storage to Amazon Web Services and Microsoft Azure
Get the best of both worlds. Run compute on AWS or Azure. Secure and control YOUR data using a Nimble array that's connected to the cloud. All while reducing your monthly transfer costs and providing absolute performance to your critical applications.

Build Your Cloud
Thousands of cloud providers, SaaS companies, and enterprises build and manage their clouds using Nimble Storage Predictive Flash Platforms. One platform that delivers data velocity to a wide range of enterprise and cloud apps. With the ability move apps between All flash and Adaptive flash arrays you can match storage costs to service levels. While Infosight provides predictive analytics and intelligent automation you can manage your cloud effortlessly and with agility.