HPE Synergy 480 Gen10 Compute Module

Synergy Compute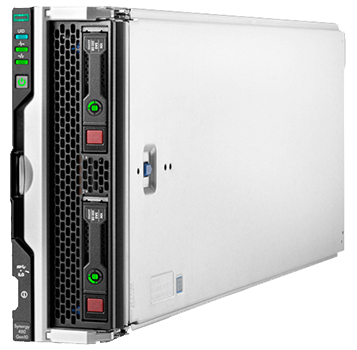 HPE Synergy 480 Gen10 Configure-to-order Compute Module
#871940-B21
Get a Quote!
Click here to jump to more pricing!
Overview:
Are your data centers struggling to find the right balance of performance, flexibility, and density for traditional workloads.
Delivering an agile and efficient IT infrastructure requires the transformation of traditionally rigid physical systems into intelligent flexible physical or virtual resource pools. HPE Synergy Composable Compute resources creates a pool of flexible compute capacity that can be configured almost instantly to rapidly provision infrastructure for a broad range of applications.
The HPE Synergy 480 Gen10 Compute Module delivers an efficient and flexibility two-socket workhorse to support most demanding workloads. Powered by Intel Xeon Scalable Family of processors, up to 3TB DDR4, more storage capacity and controllers and a variety of GPU options within a composable architecture. HPE Synergy 480 Gen10 Compute Module is the ideal platform for general-purpose enterprise workload performance now and in the future.
The most secure server with exclusive HPE Silicon Root of Trust. Protect your applications and assets against downtime associated with hacks and viruses.
More customer choice for greater performance and flexibility with Intel Xeon Scalable Family of processors on the Synergy 480 Gen10 architecture
Intelligent System Tuning with processor smoothing and workloads matching to improve processor throughput/overall performance up to 8% over previous generation.
Max memory 3TB (with 128GB DIMMs available 2H17) for larger in-memory database and analytic applications.
New hybrid Smart Array for both RAID and HBA zoning in a single controller; internal M.2 storage options that add boot flexibility and additional local storage capacity.
Improve the user experience in engineering and analytical applications with GPU expansion supporting up to 768 concurrent knowledge worker density in a 10U rack space.
Features:
Composable and Software Defined
The HPE Synergy 480 Gen10 Compute Module delivers more choice for performance, capacity, efficiency, and flexibility to power most workloads with support for the full range of Intel® Xeon® Scalable Family processors in a 1S or 2S form factor.
Composable compute resource that is intelligently auto-discovered, provisioned easily and managed seamlessly. Synergy Composability simplifies IT operations and reduces overprovisioning costs.
RESTful API and integration with an ecosystem of composable infrastructure partners provides broad options for 3rd party integration, protecting key existing investments.
Ideal Performance for General Purpose Workloads
The HPE Synergy Gen10 Compute Module provides a 25% performance increase over previous generation with 1 or 2 processors (up to 205W).
11% increase in memory speeds with a wide range of memory sizes for Registered and Load Reduced DDR4 DIMMs.
2.5x increase in compute and network connectivity speed gets your data where it's needed faster.
Up to 50% performance improvement in random read IOPs in storage controllers.
Up to 768 concurrent knowledge workers in a 10U space with HPE Graphic Acceleration options and expansion modules to drive larger scale VDI workloads.
Flexible and Secure
HPE Synergy 480 Gen10 Compute Module provides flexible enterprise solutions that allow IT to quickly and confidently implement changes through intelligent template-based operations, reducing downtime and errors from manual operations.
Unmatched threat protection with Hardware Root of Trust and unique chain of trust architecture to protect, detect and recover firmware. Intelligent System Tuning to smooth performance and match customer workloads.
Up to 3 mezzanine options with I/O flexibility for redundancy in high availability use case requirements.
Up to 200 zoned drives per storage controller and Hybrid RAID/HBA Smart Array to make your controller investment more effective.
Specifications:
HPE Synergy 480 Gen10 Compute Module Specifications
Processor number
1 or 2
Processor core available
28 or 24 or 18 or 16 or 14 or 12 or 10 or 8 or 6 or 4
Processor cache
8.50 MB L3
11.00 MB L3
13.75 MB L3
16.50 MB L3
Processor speed
3.6 GHz
Form factor chassis
Compute module
Power supply type
6, frame-based
Expansion slots
3, for detail descriptions reference the QuickSpecs
Maximum memory
1.5 TB
Memory slots
24 DIMM slots
Memory type
HPE DDR4 SmartMemory
Memory protection features
Advanced ECC
Memory Mirroring Mode
Memory Online Spare Mode
Drive description
2 SFF SAS/SATA or 2 SFF NVMe (optional) or 2 M.2 SATA and 2 Dual uFF, hot-plug, depending on model
System fan features
Frame-based
Network controller
Synergy 6810C 25/50Gb Converged Network Adapter 2 Ports per controller or
Synergy 3820C 10/20Gb Converged Network Adapter or
Synergy 2820C 10Gb Converged Network Adapter
There are more options. For all controller options, please see the QuickSpecs
Warranty
3/3/3—Server Warranty includes three years of parts, three years of labor, three years of onsite support coverage. Additional information regarding worldwide limited warranty and technical support is available at: http://www.hpe.com/support/EnterpriseServers-Warranties. Additional Hewlett Packard Enterprise support and service coverage for your product that can be purchased locally. For information on availability of service upgrades and the cost for these service upgrades, refer to the Hewlett Packard Enterprise website at http://www.hpe.com/support
Infrastructure management
HPE Synergy Composer powered by HPE OneView, HPE iLO
Processor
Intel
Processor family
Intel Xeon Scalable 6100 series
Intel Xeon Scalable 5100 series
Intel Xeon Scalable 3100 series
Form factor (fully configured)
5U
Hardware Specs:
HPE Synergy, the first platform built from the ground up for Composable Infrastructure, offers an experience that empowers IT to create and deliver new value instantly and continuously. It is a single infrastructure that reduces operational complexity for traditional workloads and increases operational velocity for the new breed of applications and services. Through a single interface, HPE Synergy composes physical and virtual compute, storage, and fabric pools into any configuration for any application. As an extensible platform, it easily enables a broad range of applications and operational models such as virtualization, hybrid cloud, and DevOps. With HPE Synergy, IT can become not just the internal service provider but the business partner to rapidly launch new applications that become the business.
HPE Synergy supports both two-socket and four-socket compute modules which provide the performance, scalability, density optimization, storage simplicity, and configuration flexibility to power a variety of workloads, including business processing, IT infrastructure, web infrastructure, collaborative, and high-performance computing.
The HPE Synergy 480 Gen10 Compute Module delivers superior capacity, efficiency, and flexibility in a two-socket, half-height form factor to support demanding workloads. Powered by the latest Intel® Xeon® Scalable processors, HPE DDR4 SmartMemory supporting up to 3TB, flexible storage controller options, three I/O connectors, and designed to create a pool of flexible compute capacity within a composable infrastructure the HPE Synergy 480 Gen10 Compute Module is the ideal platform for general-purpose enterprise workload performance now and in the future.
Get the right balance of performance, flexibility, and density for your traditional or new style of business applications. The HPE Synergy 480 Gen10 Compute Module delivers even more choice of performance, capacity and flexibility to meet your workload needs. Powered with newest Intel® Xeon® Scalable processors, HPE Smart Memory, more storage solutions and capacity, unique Smart Arrays and new GPU options the Synergy 480 Gen10 Compute is ideal to fit any workload you have, now and in the future
HPE Synergy offers additional compute module options (that have individual QuickSpecs) including:
HPE Synergy 660 Gen10 (2-4-socket, general purpose)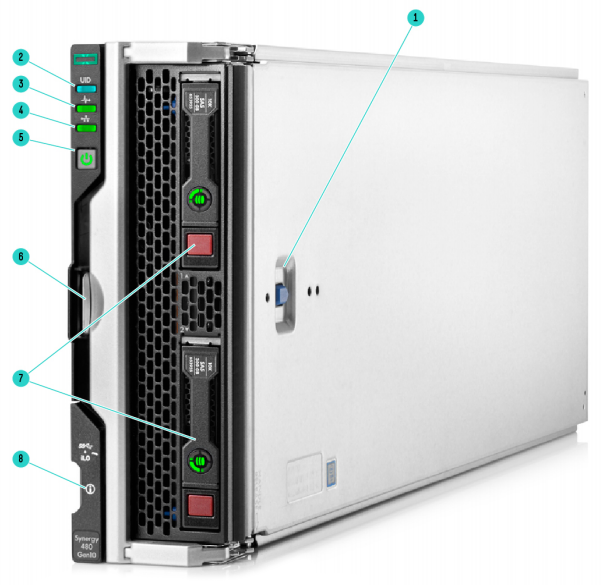 Front View – HPE Synergy 480 Gen10 Compute Module
Quick Access Panel
UID LED
Health Status LED
Mezzanine NIC status LED
Power On/Stand by button and system power LED
Compute Module handle release latch
Removable drive cage with two hot-plug drive bays
External USB 3.0 connectore & iLO USB connection (behind serial label pull tab)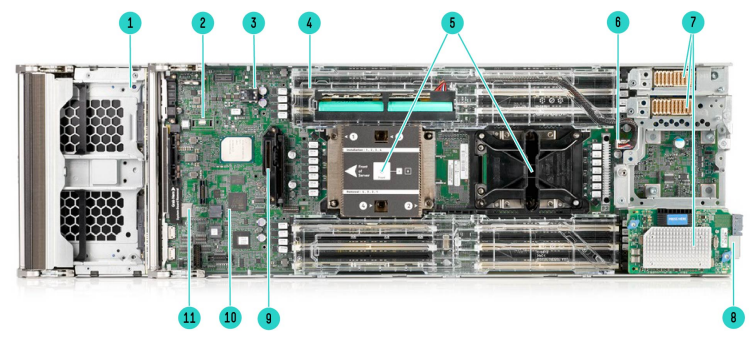 Synergy 480 Gen10 Compute Module (Drive Cage removed)
Removable drive cage with two hot-plug drive bays and connection point for M.2 Drive Adaptor Kit
TPM connector (under drive cage)
USB 3.0 (boot port under drive cage)
Twenty-four (24) DDR4 DIMM memory slots (12 per processor)
Up to two (2) Intel Xeon Scalable Family processors
Smart Array Battery connection
Mezzanine connectors (3 x16 PCIe 3.0)
Compute Module Power and Managementconnector
M.2 Storage Adapter connection (under cage)
iLO chipset (under drive cage)
MicroSD Slot (under drive cage)
Services:
HPE Pointnext
HPE Pointnext leverages our breadth and depth of technical expertise and innovation to help to accelerate digital transformation. A comprehensive portfolio that includes—Advisory, Professional, and Operational Services is designed to help evolve and grow today and into the future.
Operational Services
HPE Datacenter Care offers a tailored operational support solution built on core deliverables. It includes hardware and software support, a team of experts to help personalize deliverables and share best practices, as well as optional building blocks to address specific IT and business needs.
HPE Flexible Capacity is a new consumption model to manage on-demand capacity, combining the agility and economics of public cloud with the security and performance of on-premises IT.
HPE Foundation Care helps when there is a hardware or software problem offering several response levels dependent on IT and business requirements.
HPE Proactive Care is an integrated set of hardware and software support including an enhanced call experience with start to finish case management helping resolve incidents quickly and keeping IT reliable and stable.
Advisory Services
Advisory Services includes design, strategy, road map, and other services to help enable the digital transformation journey, tuned to IT and business needs. Advisory Services helps customers on their journey to Hybrid IT, Big Data, and the Intelligent Edge.
Professional Services
Professional Services helps integrate the new solution with project management, installation and startup, relocation services, and more. We help mitigate risk to the business so there is no interruption when new technology is being integrated in the existing IT environment.
Pricing Notes:
Pricing and product availability subject to change without notice.
HPE Products
HPE Synergy Modules
HPE Synergy 480 Gen10 Configure-to-order Compute Module
#871940-B21
Get a Quote!
HPE Synergy 480 Gen10 Configure-to-order Premium Compute Module
#871942-B21
Get a Quote!
HPE Synergy 480 Gen10 Configure-to-order without Drive Bays Compute Module
#871941-B21
Get a Quote!