HPE Nimble Storage dHCI

Storage Solutions for Data Management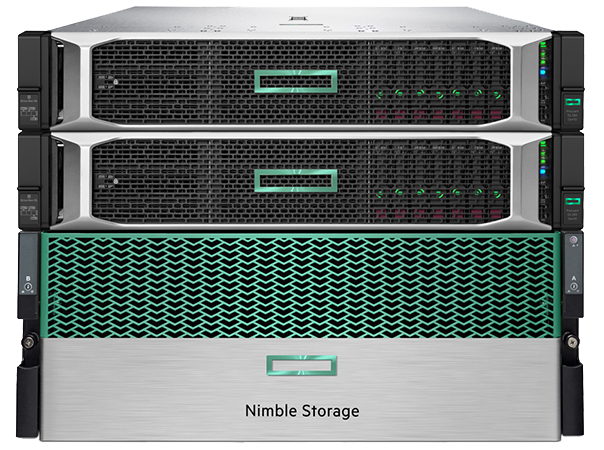 HPE Products
HPE Nimble Storage dHCI
HPE Nimble Storage dHCI Medium Solution with HPE ProLiant DL325 Gen10 Plus Server
#R7E82A
Get a Quote!
More pricing below, click here!
Overview:
HPE Nimble Storage dHCI radically simplifies infrastructure for every application by reimagining HCI without limitations. Built for business-critical apps and mixed workloads, HPE Nimble Storage dHCI enables IT agility while ensuring apps are always-on and always-fast. VM-centric and AI-driven operations make it effortless, while 99.9999% guaranteed data availability and consistent sub-millisecond latency mean it's ideal for the most demanding apps and workloads. It lowers costs with flexible, independent scaling of compute and storage and industryleading data efficiency. Finally, HPE Nimble Storage dHCI maximizes agility by unlocking the cloud experience across hybrid cloud. We call it HCI 2.0 as it's HCI without limitations.
What's New:
HPE Nimble Storage dHCI is now available through HPE GreenLake, delivering VMs and VDI as-a-service, accelerating time to value, and simplifying IT management.
HPE Nimble Storage dHCI has added support for HPE ProLiant DL325, DL385, DL560, and DL580 servers, and increased the scale of servers supported from 20 to 32 nodes.
Customers with existing HPE ProLiant servers can extend the asset life and turn the systems into to HPE Nimble Storage dHCI gaining automation and unified management for virtual machines.
HPE Nimble Storage dHCI has simplified lifecycle management with one-click, unified software upgrades for server firmware, hypervisor and storage software.
New and improved ordering and fulfillment to deliver solutions faster to customers.

HPE Nimble Storage dHCI makes managing virtualized environments easier, delivers fast app performance, ensure apps are always-on, and ensures maximum resource efficiency. You get a software-defined management experience that virtualizes your storage and compute resources with unified management through VMware vCenter®.
HPE GreenLake with HPE Nimble Storage dHCI is available to help your organization when it comes to building your VM as-a-service model. Track your consumption and costs with HPE GreenLake Central to help optimize your performance while helping ensure there's capacity ahead of demand. Achieve faster time to value for your application deployments, fueling the innovation your business needs for digital transformation. Avoid up-front investment and overprovisioning, as well as easily align cash flow to usage while maintaining visibility and control of your data.
INCREASE BUSINESS AGILITY
Accelerate application development by focusing on business outcomes not the underlying IT


Boost efficiency and manage risk with no wasted spend


Keep your capacity ahead of demand and easily adapt to changing business needs
SIMPLIFY IT
Leverage HPE resources and expertise and enable your team to focus on innovation


Reduce time to value by quickly deploying additional capacity, upgrades, and add-ons


Simplify procurement and support with a single trusted source
LOWER IT COSTS
Move to variable cost without up-front investments


Avoid overprovisioning, paying for what you need now


HPE GreenLake Central helps reduce operational burden and costs with a single easy-to-use management interface
Download the WhitePaper- HPE GREENLAKE FOR HPE NIMBLE STORAGE DHCI- to learn more.
HPE Nimble Storage dHCI
HPE Nimble Storage dHCI an intelligent platform with the flexibility of converged and the simplicity of HCI. It disaggregates compute and storage and integrates hyperconverged control to give enterprises simple infrastructure management on a flexible architecture. Built with the world's best-selling server, HPE ProLiant, and the self-managing.
Flash storage of HPE Nimble Storage, this platform provides the flexibility to scale compute and storage independently for unpredictable growth and the data resiliency and performance needed for business-critical apps.
Powered by HPE InfoSight, this platform is intelligently simple, absolutely resilient, and efficiently scalable.
Intelligently simple with native, full-stack intelligence from storage to VMs and policy-based automation for virtualized environments. Features include a fast, self-service experience include hyperconverged control with simple setup and auto-discovery for the entire cluster via VMware vCenter. All data services integrated with VMware vSphere and VMware Virtual Volumes for a native VM experience. Also included are what-if simulations that eliminate guesswork when consolidating new applications, as well as app-aware recommendations for self-optimizing performance and resources.
Absolutely resilient and ready for demanding apps on a platform designed for 99.9999% availability (HPE Nimble Storage) and sub-ms of low-latency at consistent, high performance. Features include data-centric visibility extends across the infrastructure and across every VM. Performance bottlenecks are diagnosed with root cause from storage to VMs identified easily. Advanced data services, like QoS and synchronous replication, ensure applications stay on and are always fast.
Efficiently scalable to eliminate overprovisioning and lower TCO compared to competitive platforms. Features include the ability to independently scale compute and storage non-disruptively with industry-leading data efficiency guaranteed.
With HPE Nimble Storage dHCI, enterprises can run faster with rack-to-apps in less than 15 minutes, end the fire-fighting with predictive analytics delivering 99.9999% data availability by HPE Nimble Storage, and optimize everything with higher productivity and maximum resource efficiency.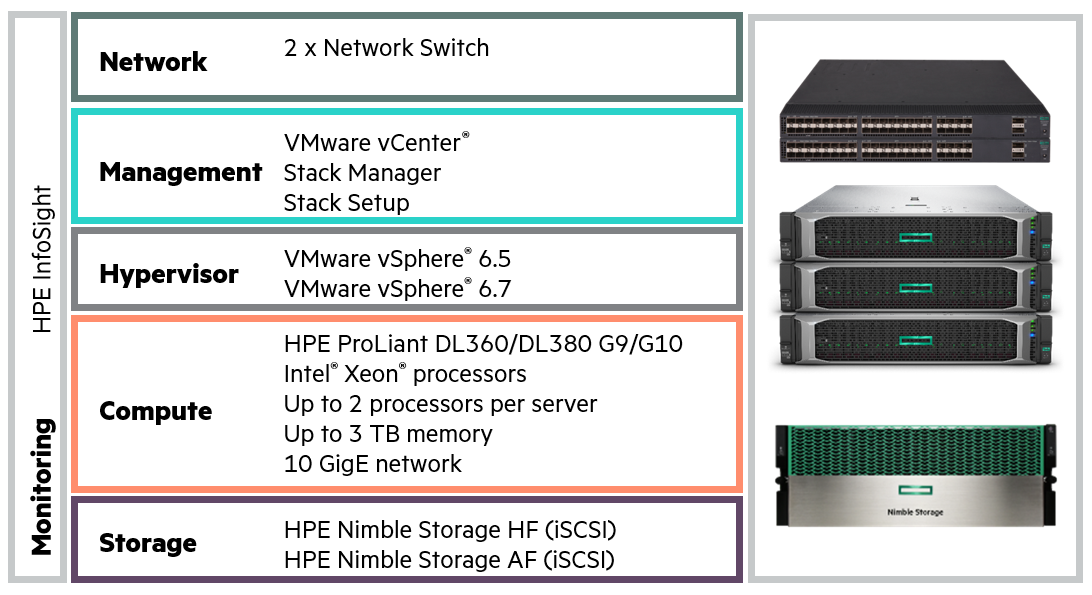 At a Glance
Hyperconverged infrastructure has revolutionized IT, delivering an experience that radically simplifies how infrastructure is managed, deployed, and scaled.  It's an architecture ideal for workloads with predictable growth as compute and storage scale together.
HPE Nimble Storage dHCI extends the hyperconverged experience to workloads with unpredictable growth, allowing independent scaling of compute and storage.  This gives enterprises the flexibility of converged and the simplicity of HCI – accelerating time-to-market on an architecture built for the unpredictable.
Hyperconverged control collapses storage and compute silos and all data services can be managed exclusively in VMware vCenter.
Resilient design center for 99.9999% availability (with Nimble Storage) with no single point of failure and advanced data integrity to tolerate three simultaneous dive failures
Low-latency performance as low as 200 microseconds data response with automatic QoS to ensure fast performance for every app Industry-leading data efficiency with advanced data reduction and a modern OS providing up to 21x data reduction


dHCI Automation Software features
Pricing Notes:
Pricing and product availability subject to change without notice.
HPE Products
HPE Nimble Storage dHCI
HPE Nimble Storage dHCI Medium Solution with HPE ProLiant DL325 Gen10 Plus Server
#R7E82A
Get a Quote!