HPE Nimble Storage Secondary Flash Arrays

Put Your Backup Data to Work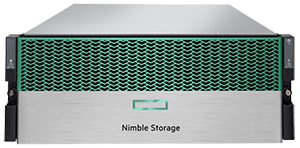 HPE Nimble Storage SF-Series Arrays
The Nimble Secondary Flash Array represents a new type of data storage optimized for both Capacity and Performance. It adds high performance flash storage to a capacity-optimized storage architecture for a unique backup platform that lets you put your backup data to work.
All Flash ArrayThe Nimble Secondary Flash Array is Cloud Ready and optimized for backup, disaster recovery and secondary data storage. By using Flash, it lets you put your backup data to work for Dev/Test, QA and analytics. Instantly backup and recover data from any primary storage system. With our integration with leading backup software, it simplifies data lifecycle management and provides a path to cloud archiving.
Finally, a Secondary Flash array that combines flash, deduplication, and Predictive Analytics. The result: a secondary storage array that lets you run real workloads. You get fast flash performance, high effective capacity, 99.9999% measured availability, and simple to deploy and use.
HPE Nimble Storage Secondary Flash Array Datasheet (PDF).
Solutions Optimized by HPE Nimble Storage Secondary Flash Arrays

The SF Series is a line of storage arrays optimized for Secondary storage tasks, optimized for data deduplication to maximize effective capacity.
Initial models available are the SF100 and the SF300. Both are comparable in terms of array-based Snapshots, Replication and Cloning capabilities, always-on inline data reduction, and cost-effective data capacity.
SF100
The SF100 is the initial entrylevel model, targeted at midsize IT organizations or Disaster Recovery sites of larger organizations.
SF300
The SF300 was designed for larger organizations and provides twice the capacity, IOPS and throughput of the SF100.
HPE Nimble Storage SF-Series Arrays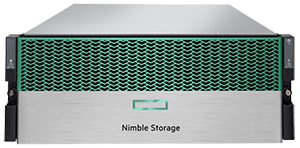 21-126TB / 19-115TiB Raw Capacity
16-100TB / 15-91TiB Usable Capacity
288-1,800TB / 270-1,638TiB Effective Capacity
1.4-36TB / 1.27-33TiB Flash Capacity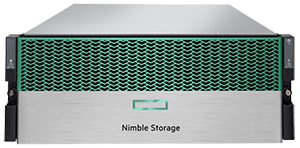 42-252TB / 38-229TiB Raw Capacity
33-200TB / 30-182TiB Usable Capacity
594-3,600TB / 540-3,276TiB Effective Capacity
2.8-76TB / 2.55-69TiB Flash Capacity