HPE Cloud Consulting Services

Get Cloud Right Faster

Cloud is one of the most significant technology shifts your company will face, offering agility, scale, and favorable economics. But the integration of private clouds, public clouds, and legacy IT environments can be daunting. HPE Pointnext cloud consulting services can help you find the right mix of hybrid cloud that can turn your IT organization into a valuable change agent for innovation and growth.
HPE's global team of cloud computing consultants—bolstered by talent from acquisitions such as Cloud Technology Partners and RedPixie—can help you build the right cloud for your business and evolve your team's culture and skills to embrace cloud.
Wherever You Are In Your Cloud Journey, HPE Can Help
With an unbiased approach developed through more than 1,000 cloud transformation projects, HPE cloud consultants help you stay ahead of the best way to optimize your environments and unleash your people.
Cloud migration
Assess your current applications, find the right mix of clouds for your workloads, identify gaps in technology and skills, and make a migration plan.
Innovate in the cloud
Launch new services and innovate faster with technology and methodologies that provide your developers with fast, easy access to the resources they need.
Cloud management
Manage and operate hybrid clouds globally with continuous governance, risk management, and compliance. Gain visibility and control across all your clouds to simplify operations and optimize costs.
Cloud adoption program
Accelerate cloud migration & adoption and empower your team by transferring our templates, methodologies, and cloud best practices as part of an actionable plan.
Cloud Consulting Services Portfolio
No matter where you are in your journey to hybrid cloud, HPE cloud consultants can help you map out your next steps. From determining what workloads should live where, to handling governance and compliance, to managing costs, HPE experts can help you optimize your operations.
HPE Accelerator Workshops for Cloud
Tailored to meet your specific needs, these workshops are geared toward helping you develop a strategic and technical plan of action.
HPE Transformation Program for Cloud
HPE will review your cloud capabilities across the dimensions of people, process, and technology, then help you establish a Cloud Business Office (CBO.)
HPE Economic Analysis for Cloud
Get answers to your questions about cloud costs and ROI with this comprehensive financial analysis of your current IT estate versus a future cloud-based environment.
Microsoft® Azure Hybrid Cloud Service
This engagement can be structured to include advisory workshops, proof of concepts (POCs), security, containers and orchestration, workload migrations, and more.
Application Migration Plan for Cloud
Migrating to a hybrid cloud can be a complex process. HPE experts will help you determine your application migration starting point in weeks, rather than months.
DevOps Maturity Assessment
A hands-on workshop to define what DevOps means for your organization. HPE align your team around a common end-state vision and actionable plan.
HPE Cloud-Native Software Development service
HPE help your teams work together to ensure software development and delivery success, focusing on deployment and process and tool adoption.
DevOps Training and Certifications
HPE four-tier certification program provides the tools your team needs to successfully transition into a DevOps environment.
Get to your right mix of Hybrid Cloud—faster
The right mix of Hybrid Cloud ensures that your business applications provide outstanding service to customers, foster innovation, and run securely and cost-effectively

Define the right mix—without costly trial and error
Finding the right mix of Hybrid Cloud is not a trivial task. What do you need to get there?

An enormous amount of data
The number of application dependencies and requirements are huge and constantly changing.
Thorough evaluation and benchmarking
The application landscape must be scored against your performance criteria, industry commonalities, and available or preferred hosting options.

Iterative evaluation
Because people, technology, and business needs change constantly, you need to constantly re-evaluate at the speed of cloud.
Take an entirely new approach
The complex and constantly changing nature of the business and application environment means that automation is critical to determining and maintaining the right mix.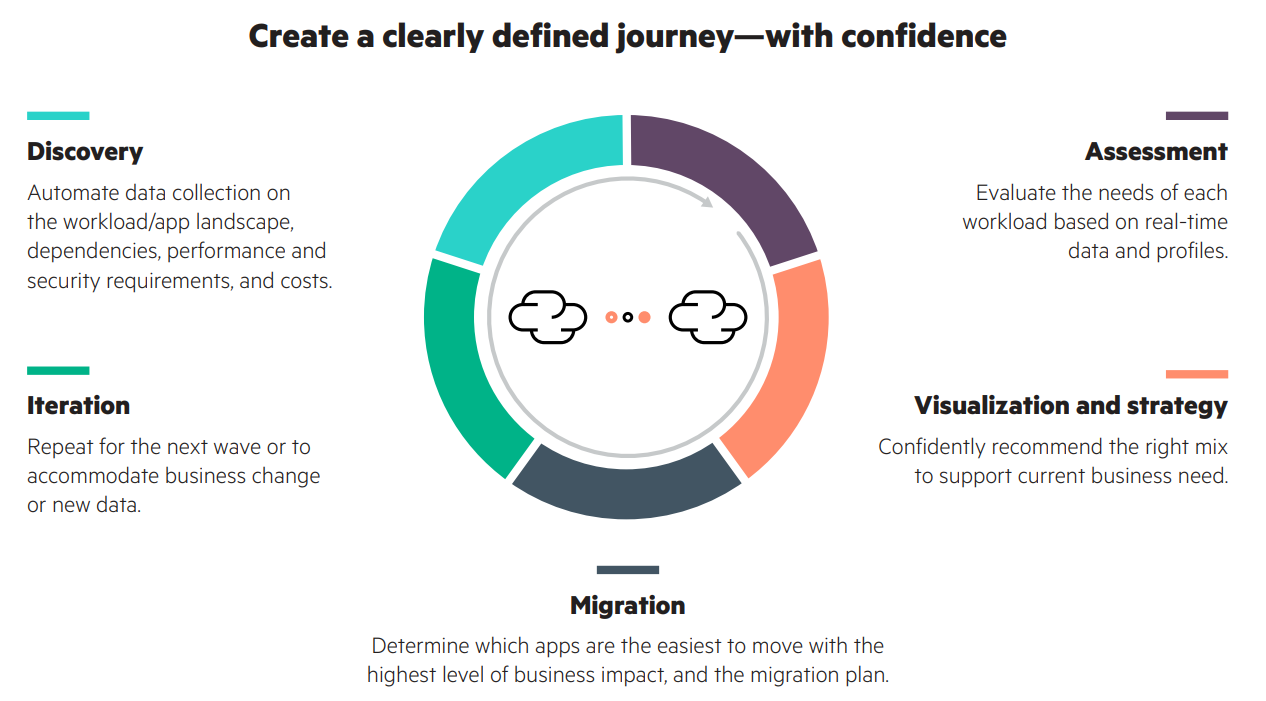 How can HPE Right Mix Advisor help?
An HPE Right Mix Advisor brings together expertise and tools, from decades of experience. HPE helps you achieve—and maintain—the right mix of Hybrid Cloud to provide optimal agility and economics based on your business and application needs at any given point. HPE has completed over 1000 successful Hybrid Cloud migrations. Through these engagements, clients have typically seen:
Application migration plan built in weeks not months
50% of apps
move to the cloud
30% do not move
20% are retired
2–3X
acceleration in continuous improvement cycles
Up to
40%improvement in IT staff productivity1
Up to
40% lower
TCO of IT2
Move to consumption model economics across all IT
How to do cloud the right way—7 best practices for success
Transforming from on-premises to hybrid cloud-based IT requires more than an understanding of the technology. It is critical to proceed with guidelines and best practices in mind. Discover some helpful hints to get you started on your cloud program journey in this article.
1 Forrester, "The Total Economic Impact™ Of HPE GreenLake Flex Capacity," May 2018.
2 Cloud Technology Partners, "Cloud Economics—Are You Getting the Bigger Picture?"
---